Daniel Murphy is the lone lefty bat in the lineup on Thursday night against the Pittsburgh Pirates.
Terry Collins offered multiple reasons: While he is not benching Ike Davis, Justin Turner is hitting .382 as a starter and .391 overall against southpaws this season. Meanwhile, Davis is hitting .167 (8-for-48) with two RBIs and 20 strikeouts in his past 15 games.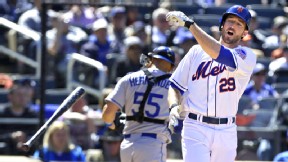 Seth Wenig/Associated Press
Slumping Ike Davis sits Thursday night.
Collins added that Pittsburgh left-hander Jeff Locke's "cross-fire" delivery is tough on lefty batters. (Lefties actually are hitting 81 points better against Locke this season, although all four of the homers Locke has surrendered have come to righty batters.)
Collins said Davis would return to the lineup Friday night, even though the Mets face another southpaw, Wandy Rodriguez.
On Thursday night, Lucas Duda is not the starting left fielder for only the third time this season. Andrew Brown starts in Duda's position, with Juan Lagares in center field and Marlon Byrd in right field.
"No. 1, we thought with Locke, he's a kind of a 'cross-fire' guy. He can be tough on lefties," Collins said. "And I wanted to get Andrew Brown in the lineup. We brought him up to face lefties. I want to get him in there. We've got lefties this week -- three of them -- and I want to get Lagares in the lineup a little bit consistently to see if he's going to handle it offensively. The one thing we do know is he might save us some runs defensively also."
Asked specifically about Davis, Collins said: "That's what this job is, to make some difficult decisions. And when you've got a player like Ike who is struggling, you've got to get him in the lineup to get him going. Yet we're trying to do some balance here by winning some games. And I wanted to get Justin Turner in there. ... You've got to figure out some spots."