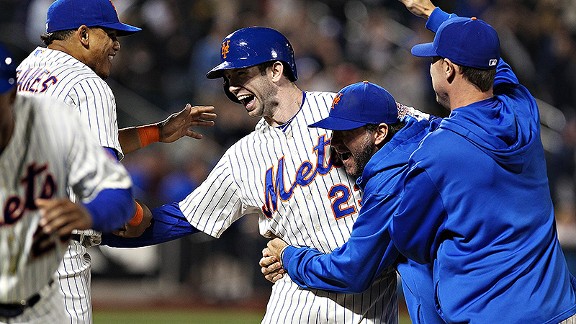 Mike Stobe/Getty Images
Mike Baxter is mobbed on the field after delivering a game-winning RBI in the bottom of the ninth.
Mike Baxter did it again.
For the second time in three days, the pinch-hitter extraordinaire lifted the Mets to a walk-off win with an RBI single. This time, Baxter plated Marlon Byrd with one out in the ninth on a single up the middle against Pittsburgh Pirates closer Jason Grilli to lift the Mets to a 3-2 victory at Citi Field. Two days earlier, after Matt Harvey was saddled with a no-decision, Baxter singled against Chicago White Sox reliever Nate Jones in the 10th to score Ike Davis with the lone run.
The Mets' last three home wins actually have been of the walk-off variety -- their longest streak since 2006. Back on April 24, the last time the Mets won at home before this week, Jordany Valdespin ended the game with a grand slam against Los Angeles Dodgers reliever Josh Wall.
Baxter is now 5-for-9 with a walk as a pinch-hitter this season.
"Kind of talking to the players that we've had in the past that have had a lot of experience pinch hitting, and Teuf [Tim Teufel] and some of the guys on the staff that have done it quite a bit in the big leagues, I think the consensus among them is you've got to be a little more aggressive right from the start of your at-bat, just because you've been idle all game and you don't have that rhythm of the game," Baxter said. "Sometimes it's beneficial if you get a pitch in the zone, a fastball that you're looking for, you probably should go ahead and get your timing on that first one."