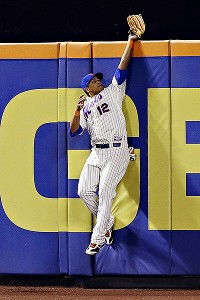 Seth Wenig/Associated Press
Juan Lagares took away an extra-base hit from Andrew McCutchen to end the top of the ninth and set up the Mets' 3-2 win Thursday.
On the day Juan Lagares joined the Mets, Terry Collins suggested some organization officials believed the rookie can play a better center field than Matt den Dekker. That may be a little stretch, but Lagares sure can patrol the outfield.
Before Mike Baxter won Thursday's game with a walk-off RBI single, Lagares kept the game tied with his glove.
Andrew McCutchen had smoked a shot to the wall in center field against Bobby Parnell with a runner on first and two outs in the top of the ninth and the score tied at 2. Lagares, playing deep to prevent a double, raced to the wall, leaped and caught McCutchen's blast. Replays suggested McCutchen would have narrowly missed a homer. But Lagares most definitely took away a tiebreaking extra-base hit.
"I just said I had to go hard, because that at-bat right there can be the game," Lagares said. "I got a good jump and I got the ball."
Lagares went 1-for-3 Thursday but is still hitting .136 in 22 at-bats since an April 23 promotion from Triple-A Las Vegas.
"I don't do very well with the bat," Lagares said. "I just try to forget about it and go play defense."