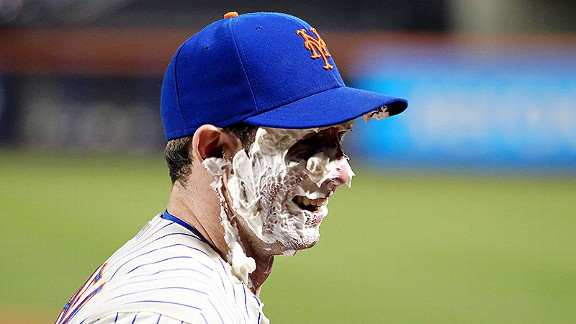 Brad Penner/USA TODAY Sports
Mike Baxter received a whipped-cream pie to the face from Justin Turner after delivering a walk-off RBI.
FIRST PITCH: Shaun Marcum heads to the mound tonight at 7:10 in search of his first Mets victory. Marcum (0-2, 7.20 ERA) opposes left-hander Wandy Rodriguez (2-2, 4.02) in Game 2 of the Mets' four-game series against the Pittsburgh Pirates.
Friday's news reports:
• Mike Baxter for the second time in three days delivered a walk-off RBI single, this time against Pittsburgh Pirates closer Jason Grilli, and the Mets won 3-2 at Citi Field on Thursday night. The Mets' last three home wins have come in walk-off fashion.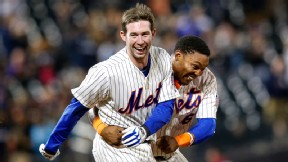 Anthony Gruppuso/USA TODAY Sports
Marlon Byrd greets Mike Baxter after Baxter's game-winning hit.
Juan Lagares had a stellar leaping catch at the wall on a shot off the bat of Andrew McCutchen for the final out of the top of the ninth. That allowed Bobby Parnell to pick up his fourth win. (Parnell has only three saves.)
"He gets better jumps and routes to balls than Matt," one Mets official said, contrasting Lagares with Matt den Dekker. "He makes it look easier. Matt makes up for his not-so-good jumps with his speed. But Juan is much better than people think."
Dillon Gee took a scoreless effort into the sixth inning, when he loaded the bases and departed.
Read game recaps in the Post, Daily News, Star-Ledger, Record, Newsday, Times, Pittsburgh Post-Gazette and MLB.com.
• Wally Backman believes Zack Wheeler could be promoted to the majors "after a couple of more starts."
• In a memoir on sale next month, Dwight Gooden details an all-night cocaine party that caused him to miss the parade down the Canyon of Heroes celebrating the Mets' 1986 championship. Read more in the Post and Daily News.
• The Double-A Binghamton Mets were no-hit by Washington Nationals farmhands Paul Demny and Ian Krol. Meanwhile, St. Lucie right-hander Noah Syndergaard, who was acquired from the Toronto Blue Jays in December, limited Palm Beach to one run in a career-high-matching seven innings in a 17-1 rout. Read the full minor league recap here.
• Columnist John Harper in the Daily News speculates about the Mets' 2013-14 offseason pursuit of an outfielder. Writes Harper:
One, in particular, I've heard multiple times this week is Shin-Soo Choo, the Reds' center fielder and leadoff hitter, who will be one of the more attractive free-agent outfielders available next winter.
"I'd bet on him being a Met next season," one major league exec with past ties to GM Sandy Alderson said on Thursday. "He's a high on-base percentage guy, which is what Sandy wants, and he's a really good hitter. If they're going to sign a free-agent outfielder, it's going to be a pretty thin outfield class. I don't really think Choo can play center field long term, and his power won't play like it does in Cincinnati's ballpark, but he's a clutch hitter who would be a major upgrade for the Mets."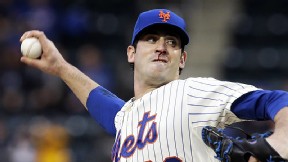 Seth Wenig/Associated Press
Plenty of people getting bloody noses like Matt Harvey.
• Jared Diamond in the Journal finds many people have recurring nosebleeds like Matt Harvey recently has experienced, including while pitching in the first inning Tuesday. Writes Diamond:
Richard Lebowitz, an associate professor of otolaryngology at NYU Langone Medical Center, said he "can't go a week" without seeing a patient suffering from nosebleeds. The dry, cold air Harvey experienced in Denver only made things worse.
"There is a collection of blood vessels right in front of the nose, and it takes just a little bit of trauma to open them up," Lebowitz said. "Then there's nothing there between him and his jersey." …
He said people suffering from nosebleeds can have the offending blood vessel cauterized, which will almost always fix the problem. Short of that, Harvey will need to wait until it heals -- and potentially deal with more nosebleeds.
"It's not going to take much to get it to open up and bleed again," Lebowitz said.
• Jonathon Niese said Thursday he felt a little knot in his back after his last start, but suggested it no longer is an issue and he is fine to take the mound Saturday. Read more at MLB.com.
• Jeurys Familia was unavailable Thursday with a sore right elbow, he told Mike Puma in the Post.
• Frank Francisco likely will pitch at a higher level in the minors than St. Lucie, where he has been working, before being activated from the DL within a week. Francisco is unlikely to unseat Parnell as closer -- not in the near-term anyway. Read more in Newsday, the Daily News and Times.
• Pedro Feliciano is on the St. Lucie DL with a strain of food poisoning known as ciguatera.
• Jenrry Mejia, who was shut down with forearm tendinitis during spring training, is ready to pitch for St. Lucie as Saturday's starter.
• Catching prospect Travis d'Arnaud is scheduled for an exam on his fractured left foot next Friday in New York.
• Ike Davis did not start Thursday, but did have a key RBI double off the bench that gave the Mets a short-lived lead in the seventh. Read more in the Star-Ledger.
• Read more on Gee's outing in the Post.
• Justin Terranova in the Post speaks with Howie Rose about splitting his time between calling the Islanders and Mets.
• The Baseball Tomorrow Fund is offering grants to New York-area youth baseball and softball organizations that were directly affected by Superstorm Sandy. Get more details and apply here.
• From the bloggers … Rising Apple notes the Mets are on pace to turn a ton of double plays this season.
BIRTHDAYS: Left-hander Pete Schourek turns 44. … Craig Brazell, who teamed with Victor Diaz to help prevent the Cubs from a postseason berth in 2004, is 33. He played from 2009-12 for Hanshin in Japan.
TWEET OF THE DAY:
Gonna try to convince my wife that going to see Matt Harvey pitch on Sunday would be a great Mother's Day present ;-)#Mets

— Tony V (@1AngryItalian) May 10, 2013
YOU'RE UP: What date do you think Zack Wheeler will be promoted?