WHAT IT MEANS: Not to fear -- Matt Harvey Day is next.
Jonathon Niese was charged with a career-high-matching eight runs while lasting only 4 1/3 innings as the Pittsburgh Pirates drubbed the Mets, 11-2, Saturday afternoon on Banner Day at Citi Field. There was a 47-minute rain delay in the middle of the ninth inning, after which Andrew Brown delivered a solo homer.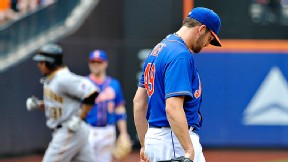 athy Kmonicek/Associated Press
Jon Niese allowed a career-high-matching eight runs, including two homers.
The Mets (14-19) -- who matched their low-water mark at five games under .500 -- did not post much at the plate anyway. They mustered only a sixth-inning run, on Marlon Byrd's infield single against Francisco Liriano. The southpaw tossed 5 1/3 innings in his Pirates debut.
Niese, who recently had been dealing with a back issue, surrendered homers to Jose Tabata (4-for-5) and Jordy Mercer. Niese's final pitch, a fastball that registered only 85 mph, resulted in a run-scoring double by Tabata that made it 6-0. Niese's velocity has, on average, been 1 mph slower this season.
Terry Collins wanted to stay away from overused Scott Atchison, but was forced to insert him after Niese's short outing. Atchison, inheriting a pair of runners in scoring position, allowed both to score on Michael McKenry's single. Atchison also was charged with a run of his own as Pittsburgh's lead swelled to 9-0.
How agonizing has it been in non-Harvey starts?
Harvey is 4-0 with a 1.28 ERA and has averaged seven innings per outing. The remainder of the Mets' starters have produced a 4-13 record and 5.59 ERA and have averaged five innings a start.
WALK THE PLANK: Jordany Valdespin, who admired his pinch-hit homer a wee bit too much in a lopsided game Friday, was sent up as a pinch hitter by Collins this time in the seventh inning with the Mets trailing, 10-1. Predictably, Valdespin was plunked in the right arm by the second pitch from Bryan Morris. Valdespin "threw a fit" in the dugout afterward, Kevin Burkhardt tweeted.
WHAT'S NEXT: After the Wiggles perform pregame, with Lachy, Simon and Emma making their New York City debuts, Harvey opposes Pirates right-hander Jeanmar Gomez (2-0, 2.38 ERA) as the Mets look to salvage a split of the four-game series Sunday at 1:10 p.m.. Various Mets will use pink bats and batting gloves in the Mother's Day game.