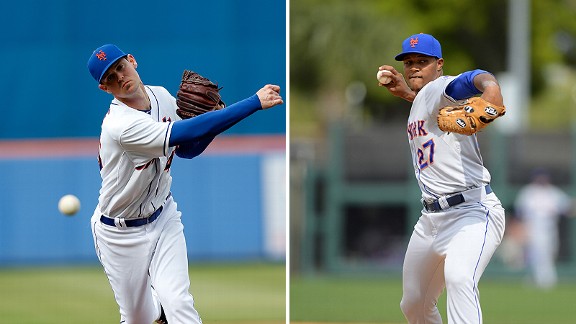 Getty Images/Associated Press
Greg Burke is expected to return to the Mets on Sunday, with Jeurys Familia to the DL the most logical path to clearing the roster spot.
Terry Collins said the inability of Mets starting pitchers to go deep into games has overwhelmed his bullpen. So the Mets will promote a reliever before Sunday's series finale against the Pittsburgh Pirates, the manager added.
That reliever will be sidearmer Greg Burke, a team source told ESPNNewYork.com.
Burke had been demoted with a 7.36 ERA on April 18, having surrendered runs in five of his seven major league appearances. He subsequently went 1-0 with two saves and a 4.66 ERA in eight relief appearances with Triple-A Las Vegas. Burke allowed 11 hits and three walks while striking out seven in 9 2/3 innings.
SHORT WORK
Aside from Matt Harvey's outing, Mets starting pitchers have been unable to pitch deep into games. A look at the team's past eight games:
"The one thing you really need are those guys that really can go almost every day -- the real durable guys that can give you three or four in a row, an inning at a time," Collins said.
Collins placed the onus for the bullpen collapsing on the starting pitching. Jonathon Niese going 4 1/3 innings in Saturday's 11-2 loss continued a string of short non-Matt Harvey starts. And that has meant relievers suited to go one inning are being stretched out to two or more and getting overwhelmed. LaTroy Hawkins logged two innings Saturday, which will make him unavailable Sunday.
"It's a pretty big problem because our bullpen is shot," Collins said about the length of starting pitchers' performances. "So it's created a major issue for us. We're going to have to make a move tomorrow to get somebody here. … We've got to start getting some quality innings out of our starters. And we're saved tomorrow. I know Matt will give us some innings. That will help."
It seemed Frank Francisco was the next logical addition to the bullpen, but Collins implied the ex-closer had a setback. Only hours after pitching coach Dan Warthen indicated Francisco was taking his rehab assignment from Class A St. Lucie to Double-A Binghamton, Collins said: "I know he was supposed to throw today on the side and didn't. That's all I know."
The Mets did not indicate how room would be made on the 25-man roster for Burke, but the logical action is to place Jeurys Familia on the DL. Familia has been unavailable since pitching Wednesday because of what is being labeled biceps tendinitis.