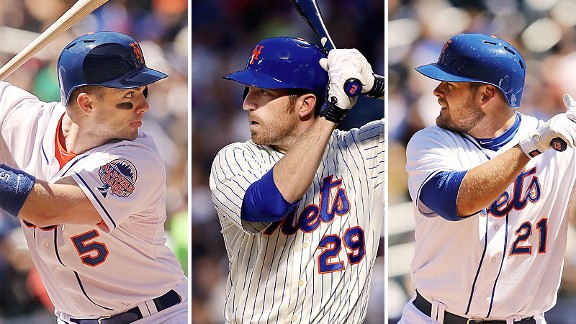 Getty Images
Terry Collins appears poised to use a stable 3-4-5 of David Wright, Ike Davis and Lucas Duda.
Terry Collins has used five different cleanup hitters this season. He has used seven different No. 5 hitters.
Now, the manager has concluded, enough is enough. The run producers will be going back to their designed spots, with limited tinkering.
David Wright remains in the No. 3 hole. Ike Davis will get a regular role as the cleanup hitter, where he has not started since April 19. Lucas Duda will go back where he belongs too, according to Collins, which seems like the No. 5 spot.
"You know what? We've got some run producers on this team. They're going to start hitting where they belong to hit," Collins said after the Pittsburgh Pirates beat the Mets, 11-2, Saturday at Citi Field. "That's where they're supposed to hit.
"You work hard trying to put the best lineup out there, to put them in the right spots. And when I'm sitting there looking at it today -- and my guys are great, my players are tremendous, they're great guys -- but … I'm sitting there today thinking it's enough trying to over-manage this. Let the players play. So I'm going to turn them loose tomorrow and let them go play and hit in the spots they should be hitting."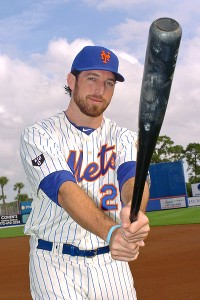 Steve Moore/Associated Press
Ike Davis
The Mets went 1-for-6 Saturday with runners in scoring position and are now hitting .186 (21-for-113) in those situations during their past 17 games. They tied a season high with 16 strikeouts in Saturday's loss. It marked only the fifth time in franchise history they had struck out that many times in a nine-inning game.
In fact, the lack of success left Davis and Wright walking a tightrope about how much to criticize the organization's hitting philosophy.
"We want to be selective," Davis said. "We want to work the count and get the starters out of the game early. But, like today, the guy was pumping strikes -- and we kind of can't wait for him to get out of the game. We've got to knock him out of the game. When guys are on their game and really filling the [strike] zone up, we've got to maybe make the adjustments and start swinging earlier.
"All the teams know coming in that we're trying to work counts and get walks and see pitches. They know that coming in. Obviously they try to throw strikes early in the count. So then we're hitting with two strikes. It's tough to do that."
Said Wright on that topic: "Yeah, I think it's important that we're aggressive. If we can get good pitches to hit early in the count, we need to jump on those. It's well-documented the approach that we're trying to do here. But it's counterproductive if you go up there and start 0-1, 0-2. And maybe the book's out of what we're trying to do.
"We're trying to get into the bullpen. We're trying to get the starting pitchers' pitch count up. You can do that not only by drawing walks and taking pitches. But you can do that by banging the ball around the park also. We need to get back to being under control but also aggressive early in the count."
The Mets have been getting paltry production from their No. 4 hitters. Entering Saturday, their cleanup hitters had a collective .213 average, better than only the Milwaukee Brewers (.205) in the National League.
"That's where he belongs," Collins said about Davis hitting fourth. "And you know what? He knows what he's got to do. I know what he's got to do. And we've got to turn him loose and let him do it.
"I do a lot of talking about the importance of having some confidence. He knows he's struggling and I know he's struggling. So I tried to take him out of there to get him to relax a little bit. You know what? He's a big leaguer. And he's a good hitter. This guy produces runs when he's swinging the bat good. He's not swinging very good. I know that. He knows that. You've got to get through it. This is the big leagues."
Said Davis: "Obviously I need to perform. I've done it the majority of my career. I've batted fourth. And, you know, we were winning games even though I wasn't doing well when I was hitting fourth. … I'm going to play better. Hopefully I start sooner than last year."
Wright agreed with returning Davis to cleanup.
"Terry and I talked about that today," Wright said. "If we're going to be successful, we're going to need Ike and we're going to need Lucas to do what I think everybody knows they're capable of. Those guys, especially Ike, have a track record of driving in runs. He's swung the bat well as of late. And he provides a presence. Even when he's not going so well, he provides a presence in the middle of that lineup. I think it's a great move."