Will Matt Harvey's success prompt him to again be deprived of pitching a full season?
Harvey logged another seven innings Sunday, giving him 56 1/3 innings through eight starts.
Project that over 33 starts -- a full season, without interruption -- and that is on pace for 232 1/3 innings.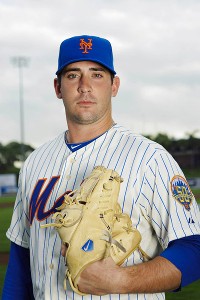 Steve Mitchell/USA Today Sports
Matt Harvey is on pace to exceed 230 innings.
Harvey threw 169 1/3 innings in 2012 between the majors and minors -- a jump of 33 2/3 innings over 2011. Team officials then shut him down after a Sept. 19 start.
Would Mets brass really let Harvey have a 63-inning jump from last season to 2013 if he continues to pitch this deep into games? Or would they be forced to cut his season short again? (Or at least start pulling him from games sooner? Or spread out his starts?)
Asked if the standard cap is a 30-inning increase over the previous season, which would mean about 200 innings for Harvey this year, Paul DePodesta told ESPNNewYork.com:
"It all depends on the individual and the composition of his individual innings," "Pitch counts, stress of pitches and rest all factor in the final equation.
"For instance, if a guy throws 170 innings over 28 starts and throws 105 pitches per game, he might actually go 210 innings the following year on 30 starts with an average of 100 pitches per game. On the surface, it's a 40-inning jump, but it was largely because he became more efficient with his pitches and added two starts.
"All of these factors and more will be taken into account as we move through the season with Matt, and all of our other young pitchers."
Harvey is, in fact, throwing nearly two fewer pitches per inning this year (14.79) compared with 2012 (16.74, including majors and minors).
So perhaps the innings leap can be stretched a little more than normally would seem palatable, because the actual pitches thrown would not rise as dramatically as the innings count.
Maybe Harvey gets to 210 innings in 2013. Or even a few more than that.