ST. LOUIS -- Right-hander Scott Atchison experienced numbness in his fingers while pitching Monday, an alarming sign for a reliever who also experienced that symptom before learning of a tear in an elbow ligament last season.
After seeking a second opinion from Dr. James Andrews while with the Boston Red Sox in 2012, Atchison elected not to have Tommy John surgery, and instead rested for two months and was able to come back in September. Now, his future is uncertain with the recurrence of the related finger numbness.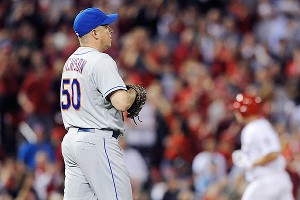 Bill Boyce/Associated Press
Scott Atchison reacts to surrendering a two-run homer to Matt Holliday in the seventh inning Monday.
Atchison plans to be examined by doctors Tuesday, although he was not sure yet if he would travel to New York or be examined in St. Louis. Either way, he is not sure what any MRIs will achieve. He already knows he has a ligament tear in his elbow. He just hopes that with a period of rest the ulnar nerve that runs alongside the torn elbow ligament and to his fingers calms down so he can return at some point without needing surgery.
He was unable to get enough feeling in his fingers to successfully grip the baseball when he served up a two-run homer to Matt Holliday in the seventh inning, which capped the scoring in the Mets' 6-3 loss to the St. Louis Cardinals on Monday night.
"I had been battling a little bit some soreness -- stuff that I knew I could handle pitching through," Atchison said. "Today the problem was the numbness returned to my fingers. So gripping the ball is a little tough when you've got some tingling through my fingers. I was not really able to finish some pitches. ...
"[Numbness] was kind of the first indicator last year when I was having some issues with [the elbow]. The ulnar nerve runs right through your elbow where the ligament and everything comes in. That can be some of the symptoms. It's documented, obviously, with my elbow. So some of it's, what can I handle? I feel like I've been managing it pretty good all year. Today, for whatever reason, the tingling came back. I've been able to manage the soreness in there and get myself ready to go when I've had it occasionally. ...
"I know it's there," Atchison continued, referring to the tear. "I know kind of why things are happening. If rest clears it up, then we'll go back at it like I have been. At this point, I'm not going to say one thing or another. We're going to evaluate it and see where we're at."