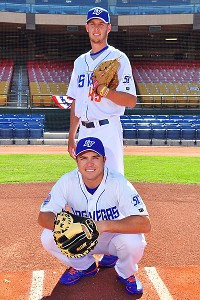 Courtesy of Las Vegas 51s
Zack Wheeler and Travis d'Arnaud are both headed to New York this week ... for medical exams.
ST. LOUIS -- Top prospect Zack Wheeler told trainers on Monday about soreness in his right clavicle, and he is being dispatched to New York for further examination, assistant GM John Ricco said.
Manager Terry Collins said the initial belief is that the injury in the front of the shoulder is not serious and Wheeler will need to miss only one Triple-A start.
Ricco said Wheeler already has been examined by a doctor in Las Vegas, but out of an abundance of caution given the importance of Wheeler to the organization, Mets doctors will take a firsthand look.
Wheeler, in his third straight strong start, limited Albuquerque to two runs in 7 1/3 innings Saturday. He has a 1.35 ERA over his past three starts.
"He's going to most likely miss his next start," Ricco said. "It was nothing that happened during the last outing. It was something that he felt a couple of days after. It's near his right clavicle. That's all I have right now until we have a doctor see him tomorrow. I think we're being a little bit conservative given who it is."
Said Collins: "From what I've heard today, it doesn't sound serious. But anytime you miss a start, it's for the best interest of the player. We'll wait to hear the doctor's report and go from there. If it's only one start, that's certainly something we can handle easily."
Wheeler joins top catching prospect Travis d'Arnaud on the shelf, and each Las Vegas Triple-A player has an appointment to be examined by team doctors. D'Arnaud, who suffered a left foot fracture four weeks ago, is scheduled for a Friday exam with doctors and hopes to shed a walking boot.