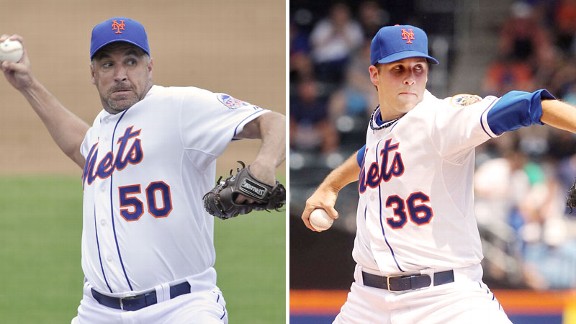 USA TODAY Sports
Scott Atchison has landed on the DL, with Collin McHugh taking his bullpen spot.
ST. LOUIS -- Scott Atchison, who experienced numbness in his fingers while pitching Monday, has been placed on the disabled list.
Assistant GM John Ricco said Atchison, who was examined Tuesday in New York by team doctor Struan Coleman, has no new structural damage. Bone spurs in the back of his pitching elbow have caused inflammation and irritated a nerve, Ricco added.
Atchison -- who opted not to have Tommy John surgery last year despite a ligament tear in his right elbow -- will take anti-inflammatory medication and be idle for a week.
"All things being considered, that's some good news that there is no [new] structural problem," Ricco said. "Hopefully they'll calm this down and he'll be back. There's nothing new to the ligament they're concerned with. ... The spurs are going to be there. So he has got to deal with them until he gets them removed. He's had them. They're not new."
Collin McHugh will take Atchison's roster spot and work in relief. Terry Collins said McHugh will be unavailable on Tuesday because he threw 100 pitches in a seven-inning outing Sunday with Las Vegas. Beginning Wednesday, McHugh may be available for a bullpen role that may include two- or three-inning usage if required.
"It's an arm that we need," Collins said. "... And one thing we know about him, he can give us multiple innings. The fact that he's been starting, it really helps us out that we've got someone down there we know we can go, if we need, two or three innings."
• Also among DL'd relievers, Frank Francisco arrived at the Mets' complex in Port St. Lucie, Fla. He is a day into a 72-hour period of no throwing following renewed elbow discomfort.