ST. LOUIS -- Terry Collins struggled to find new analysis after the Mets suffered their sixth straight loss, 4-2 to the St. Louis Cardinals on Wednesday night at Busch Stadium.
"It's no secret. I mean, I don't have a lot to say," Collins said. "We beat this horse to death here all week. You've got to finish it. ... Outside of a few innings, we've been in every game in the last week. We just can't finish them. We cannot get a big hit. We cannot get a big out. We cannot make a big play when we need to. It's a combination of things that has just happened. And that's what happens when you're going bad. And we're going bad. And we're going to get out of it.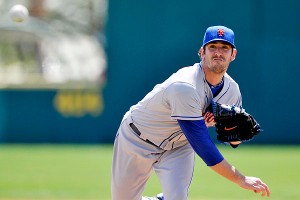 Brad Barr/USA TODAY Sports
Almost there: Matt Harvey pitches Friday in Chicago.
"We're all frustrated. They're frustrated. We're trying to get them to relax and not put so much pressure on themselves. But they want to win. They want this to get over with. They want to put a smile on their face at the end of the game."
Said David Wright: "The game is very cruel sometimes, and right now we're experiencing kind of the cruelness of it. You get a quality start from your starter and there's just so little room for error that a ball bounces one way, you don't catch a break here, you don't catch a break there, you end up losing the game because you have to play near-perfect when the offense is struggling the way it is right now."
As for his level of concern, Wright added: "Well, we're not playing good baseball. That's easy to see. But it's a resilient group. And you have to understand that we know there's going to be tough times over the course of this season. We're going through one right now. It's not time to hold your heads down and mope around. We've got to find a way to compete, find ways to execute.
"You look across the field, it's not necessarily the team with the best players that wins the most games. It's the teams that execute, the teams that do the small things right."
Speaking of those small things:
• On the seventh-inning wild pitch on a split-finger fastball from Scott Rice that produced the go-ahead run, Rice said: "I just cut it a little bit."
• On the dropped tag between second and third base that prolonged the fourth inning and ultimately allowed a second run to score, Wright said: "I was trying to get to second, because we didn't have anybody covering second. And [Jon Jay] just put the brakes on. When he stopped, obviously the ball just came flying out. I guess it hit something hard on him and the ball came kicking out. It's just one of those crazy plays."
• On John Buck getting doubled off second to end the second inning on Ruben Tejada's lineout to Jay in center field, Buck said: "He hit it harder than I thought. I knew that they were shifted over. I knew it was toward him. I just didn't think it was going to carry that far. We had the pitcher coming up. I was a little too aggressive."
• On Buck caught stealing to end the fourth inning, Collins explained Cardinals starter Shelby Miller normally has a slow, 1.7-second delivery time. Buck tried to take advantage and steal a base like he did last homestand.
"He thought he had the guy read and [could] steal a run, as Yadier [Molina] does 25 times a summer, and just like John did the other day," Collins said. "And the guy sped up his delivery and they got him."