WHAT IT MEANS: They'll frustrate you even when they win, but it beats the alternative.
Daniel Murphy reached base all five plate appearances and twice scored on David Wright hits and Jonathon Niese rebounded from a pair of dismal starts as the Mets snapped a six-game losing streak with a 5-2 win against the St. Louis Cardinals on Thursday afternoon at Busch Stadium.
The Mets (15-23) avoided getting swept in a series of four or more games by the Cardinals for the first time since 1982.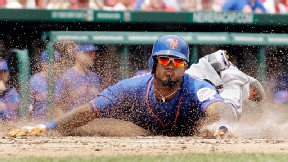 Jeff Roberson/Associated Press
Jordany Valdespin scores from first base on Daniel Murphy's third-inning double.
They also avoided dropping 10 games under .500 at the earliest date since they were 12-23 on May 16, 1993. That year, Dallas Green replaced Jeff Torborg days later en route to a 59-103 record -- the last 100-loss season by the franchise.
DANNY BOY: Murphy went 4-for-4 with two doubles and also walked. He is now 11-for-his-last-17 since going hitless in the previous 17 at-bats.
Murphy's third-inning double against Adam Wainwright scored Jordany Valdespin from first base and evened the score at 1.
Both times Murphy doubled, Wright followed by driving him in -- for the tiebreaking run in the third and then to give the Mets a 3-1 lead against Wainwright in the sixth.
The last Mets to reach base five times in a game without benefit of an error? That would be Mike Baxter (five walks) and Murphy (4-for-4, BB) last Aug. 4 at San Diego.
NIESELY DONE: After allowing a combined 15 runs in 8 1/3 innings in his previous two starts, Niese got back on track to earn his first win since April 12.
Niese's teammates actually did more damage than the Cardinals. The lone run against the southpaw came when Rick Ankiel broke late on what was ruled a double by Pete Kozma into shallow right-center with two outs in the second inning. That scored Yadier Molina with the game's opening run.
Niese logged 7 1/3 innings. He departed with his pitch count at 113 and a 5-1 lead after a one-out double by Matt Carpenter and walk to Shane Robinson. Brandon Lyon allowed an inherited runner to score on Carlos Beltran's RBI single. Lyon then coaxed an inning-ending double play from Allen Craig.
CLOSE CALL: Bobby Parnell earned only his fourth 2013 save. He had not had an opportunity since May 1.
OH-NO: Ike Davis went 0-for-5 with four strikeouts. He is hitless in his last 22 at-bats, with 10 strikeouts during that span.
NOT PRETTY: The Mets may have won, but that does not mean they played crisply. With runners on the corners and none out leading 4-1 in the seventh, Niese struck out bunting. Valdespin then bunted, and popped out in foul territory to Molina. After Murphy walked to load the bases, Wright lined out to second base to end the threat.
WHAT'S NEXT: Matt Harvey Day! Harvey (4-0, 1.44 ERA), the SI cover boy who has suffered four straight no-decisions despite stellar pitching, opposes Chicago Cubs right-hander Edwin Jackson in the 2:20 p.m. ET opener to a three-game weekend series Friday at Wrigley Field.