CHICAGO
FIRST PITCH: Matt Harvey Day has arrived.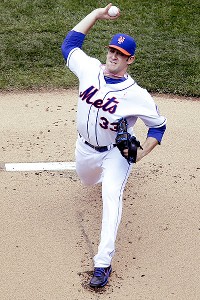 Seth Wenig/Associated Press
Matt Harvey pitches at Wrigley Field this afternoon.
Harvey, who has suffered four straight no-decisions despite producing a 1.98 ERA during that span, aims for his first win since his April 19 duel with Stephen Strasburg. He opposes Chicago Cubs right-hander Edwin Jackson (1-5, 6.02 ERA) today at 2:20 p.m. ET at Wrigley Field.
Harvey's 1.44 ERA currently ranks third in the National League, trailing the Dodgers' Clayton Kershaw and Cardinals' Shelby Miller (both 1.40).
Read the Mets-Cubs series preview here.
Friday's news reports:
• Jonathon Niese rediscovered his mechanics and pitched into the eighth inning, Daniel Murphy reached base five times and the Mets snapped a six-game losing streak with a series-salvaging 5-2 win against the Cardinals on Thursday afternoon at Busch Stadium. Niese's fastball averaged 90 mph and topped out at 93 mph.
Read game recaps in the Post, Daily News, Star-Ledger, Newsday, Times, Record, Journal and MLB.com.
• Ike Davis is 0-for-his-last-22, but Terry Collins says he will stick with the first baseman in the cleanup spot against a pair of Cubs right-handers. There is no promise beyond that about the batting order, although Marc Carig in Newsday writes: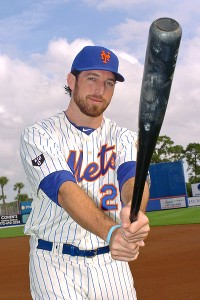 Steve Moore/Associated Press
Ike Davis is 0-for-his-last-22.
The team has yet to enter into serious discussions about sending Davis down, according to people familiar with the team's thinking, believing that he earned a pass with his torrid second half a year ago.
Davis went 0-for-5 with four strikeouts Thursday. Writes Michael Salfino in the Journal:
If this all sounds familiar, it is because it is, eerily so. Last season, through May 16, Davis's numbers were almost exactly the same -- a .167 batting average, .222 on-base percentage and .310 slugging percentage. His on-base plus slugging percentage (OPS) on May 16 the past two seasons: .532 last season and .516. That makes the 26-year-old Davis the only regular first baseman since at least 1921 with an OPS under .540 through the season's first 38 games in back-to-back seasons, according to Stats LLC.
Last season, Davis rewarded the Mets' faith. From May 17 onward, he posted a .247/.334/.511 line. Davis's .846 OPS from that date forward led the team and ranked sixth among all major-league first basemen (minimum 390 at-bats). …
Only two other regulars in Mets history have posted an OPS below .540 in back-to-back seasons through 38 games: Rey Ordonez (.535 in 1997, .459 in 1998) and Doug Flynn (.457 in 1979, .511 in 1980). But those two players were Gold Glove-winning middle infielders -- not first baseman who are expected to provide pop.
Read more on Davis in the Star-Ledger, Daily News and MLB.com.
• Jordany Valdespin apologized to "several" teammates Thursday, USA Today's Bob Nightengale tweeted. Valdespin nonetheless had an ill-advised bunt attempt in the seventh inning.
• Columnist Bob Klapisch in the Record suggests Wally Backman could not win with the current Mets roster. Writes Klapsich, referring to Collins' fans comment earlier in the week:
Collins should've known better than to give the Wilpons an opening like that. No matter what ownership says to the contrary, they'll need a fall guy if the Mets are doomed to play .400 ball the rest of the summer. What better candidate than someone who rips the saps who still actually pay to see the Mets?
But that's not saying Collins deserves to be canned. Given a pass for this week's misstep, he's had a better year than most of his remarkably awful lineup. There's plenty of talk, generated mostly by rogue fans, about Wally Backman arriving mid-summer to shake things up. Admittedly, it's a seductive story line: Backman and his tightly wound clock is just the medicine these sorry Mets need. Right?
Not really. Backman would face the same obstacles that currently handcuff Collins: a nonproductive outfield, a bullpen that ranked last in the majors in almost category in May, not to mention the regression of key players such as Ike Davis, Lucas Duda, Daniel Murphy and even Niese.
Klapisch also quotes a league official about the addition of Rick Ankiel saying: "That tells me [the Mets] really have no plan, they're just going from crisis to crisis. What can Ankiel give them? I'm sorry, you just don't belong in the big leagues when you're striking out [35 times in 62 at-bats before being released by the Astros last week]. You have to try to be that bad."
• Kirk Nieuwenhuis struck out with the bases loaded in the ninth and Omaha beat Las Vegas, 5-4. Noah Syndergaard limited Brevard County to two runs in 6 2/3 innings and struck out 10, but the Manatees beat St. Lucie, 4-3. Rainy Lara tossed eight scoreless innings and Savannah beat Augusta, 6-0 in 11 innings. Jenrry Mejia starts for St. Lucie tonight. Read the full minor league recap here.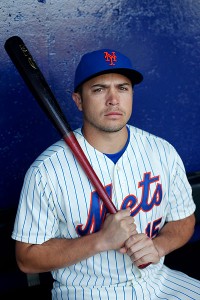 Chris Trotman/Getty Images
Travis d'Arnaud is due to be examined by team doctors today in Manhattan.
• Travis d'Arnaud is due to be examined today in New York, four weeks after fracturing his left foot. The expectation is d'Arnaud will be cleared to shed a protective boot and begin weight-bearing activity.
• Frank Francisco (elbow) has passed the 72-hour window and may be able to resume throwing.
• Bob Raissman in the Daily News suggests Mets ratings are nosediving on SNY. Word is they had a sub-1.0 rating one game this week, a startling number for New York baseball, albeit with competition from the Knicks and Rangers. Writes Raissman:
The Mets on SNY are averaging a household rating of 1.91, down 22 percent from the same point in 2012. Among men 25-54, the key demographic, the Mets are averaging a 1.05 rating, down 15 percent from 2012.
That's not good (duh). Some wins would help push these anemic ratings higher. When the Mets eventually bring Zack Wheeler to Citi Field he, like Harvey, should juice the ratings. Short of that, the idea is to at least stay relevant by any means necessary. The Mets managed to get five days of media juice out of this Valdespin thing, which really stretched the meaning of controversy.
• Baseball America reports the Mets are showing strong interest in teenage Venezuelan catcher Ali Sanchez ahead of the international free agent signing period, which begins July 2. He is projected to command slightly less than the $800,000 the Mets gave fellow Venezuelan catcher Jose Garcia two years ago. Writes BA's Ben Badler:
Sanchez is a 16-year-old right-handed hitter who trains with Yhonson Lopez, has gone to the Dominican Republic to play in the International Prospect League and has emerged as one of the top catching prospects in Latin America behind Herrera. At 6 feet, 180 pounds, Sanchez is a good defender who receives well and has a decent arm that plays up because of his quick transfer and accuracy. At the plate, Sanchez doesn't have a lot of power now and scouts were mixed on his bat, but some scouts think he has a chance to be a solid hitter with a contact-oriented swing.
• Ankiel said he would not consider stepping on the mound if the Mets needed to use a position player to complete a lopsided game. "No," Ankiel told Mike Kerwick in the Record, "'cause if I ever did that and I got hurt, I'd never forgive myself."
• From the bloggers … Faith and Fear in Flushing contains its enthusiasm.
BIRTHDAYS: Dick Smith, a first baseman and outfielder on the '63 and '64 Mets, was born on this date in 1939.
TWEET OF THE DAY:
Covering the Yankees, I write the word "injury" almost as often as I wrote the word "Picard" when covering the Mets.

— Andy McCullough (@McCulloughSL) May 17, 2013
YOU'RE UP: Who is the best choice to start at first base: Ike Davis, Lucas Duda, Josh Satin, Andrew Brown or Zach Lutz?