CHICAGO -- What's next if Ike Davis continues to flop after being reinstalled as the cleanup hitter?
Terry Collins said he hopes the discussion does not come to it, but a strong possibility would be platooning at first base as well as flipping lineup spots with No. 5 hitter Lucas Duda when Davis starts against right-handers. Justin Turner presumably would be the righty-hitting half of a platoon.
Davis, who returned to the cleanup spot against right-handed pitching on Sunday, is in the midst of an 0-for-22 rut. He is hitting .119 (8-for-67) as a cleanup hitter this season.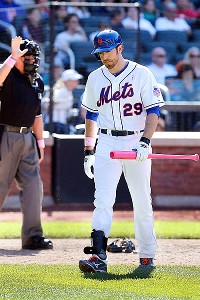 William Perlman/The Star-Ledger via USA TODAY Sports Images
Ike Davis is 0-for-his-last-22.
Collins said he definitely will stick with Davis in the No. 4 hole through Saturday, when the Mets face right-hander Scott Feldman. Davis is likely to start Sunday but hit lower in the order against left-hander Travis Wood.
Then what?
"Until we see what happens this weekend, I really don't know what we're going to try," Collins said. "Last year, when this happened, we ended up going to a straight platoon. When he started swinging better, he got back in there. We'll discuss that stuff. Hopefully it's not a discussion. But if we have to, we'll discuss it on Sunday."
Davis had a comparable start to the 2012 season before things finally clicked. He had a nine-game hitting streak in mid-June during which he hit .462. He hit 20 second-half homers, second most in the National League, trailing only San Diego's Chase Headley (23).
Collins believes last season's success coincided with Davis being informed the Mets were not considering a demotion to Triple-A.
"That might have taken all the pressure off of him," Collins said. "There was so much talk he was going to get sent out that maybe he just relaxed and started to swing the bat a little bit better. With each and every week he got better and better. And then the next thing you know he's back in the middle of the lineup hitting home runs, driving runs in."
Collins said Davis' effort this year is there. As the Mets were packing up to leave St. Louis on Thursday afternoon, Collins noted, Davis was hitting postgame in a cage at Busch Stadium. He had gone 0-for-5 with four strikeouts in the series finale.
Would Collins threaten a demotion -- the opposite tact from last year's vote of confidence?
"I haven't used that approach yet," Collins said. "I did use the other approach the other day, that, 'Look, we really believe in you. You've got to start believing in yourself and you've got to go back and hit where you're supposed to hit.'
"I haven't tried the other side yet, because he's got enough on his plate at the moment. I don't need to heap any more on him. That's the way I feel. That may be another approach we try. But, again, it's not because he's not working. If he was just taking it as, 'Well, it's going to come, it's going to come,' I would have some issues. But yesterday [taking postgame swings] proved he's doing the best he can to get ready and get it going."