WHAT IT MEANS: Starter Matt Harvey drove in his own damn run.
With the Mets torn between desperately needing a run and also not wanting to pull their ace for a weak and undependable bullpen, manager Terry Collins allowed Harvey to hit with two outs, Rick Ankiel at second base and the score tied in the seventh inning.
Who needed a pinch hitter?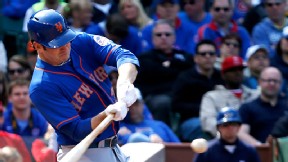 Charles Rex Arbogast/Associated Press
Matt Harvey's bat won the game with a two-out RBI single in the seventh.
Harvey -- with his pitch count at 92 and having retired the last 11 batters he had faced -- gave himself a one-run lead by hitting the ball through the left side of the infield for an RBI single that chased opposing starter Edwin Jackson. That proved the decisive blow as the Mets held on for a 3-2 victory over the Chicago Cubs on Friday afternoon at Wrigley Field. The Mets have won two in a row after losing six straight.
Right fielder Marlon Byrd threw out a runner at the plate in the eighth. David Wright and Daniel Murphy earlier produced solo homers.
Harvey improved to 5-0, snapping a streak of four straight no-decisions during which he posted a 1.98 ERA while the Mets scored only six runs with him on the mound.
Harvey's final line: 7.1 IP, 5 H, 2 R, 2 ER, 0 BB, 6 K. He threw 106 pitches (78 strikes).
He had retired 14 straight batters, and 20 of 21, until allowing a leadoff single to Darwin Barney in the eighth. Pinch-hitter Julio Borbon then bunted Barney to second. Collins pulled Harvey and inserted heavily used left-handed reliever Scott Rice to face the lefty-hitting David DeJesus.
DeJesus singled to right field, but ex-Cub Byrd -- who had entered the previous half-inning for Jordany Valdespin -- fired a strike to the plate to throw out Barney as he attempted to score from second.
Harvey has now allowed three runs or fewer in 16 straight starts, the fifth-longest streak by a starter in franchise history. The only longer: Dwight Gooden (24 straight, 1985), Johan Santana (21, 2008-09), Tom Seaver (19, 1971-72) and Gooden (17, 1985-86).
Harvey had showed his mortality in the first inning when the Cubs jumped on his fastball. He allowed a one-out single to Starlin Castro, then a double by Anthony Rizzo that put both Cubs in scoring position.
The fielding let Harvey down after that. Shortstop Ruben Tejada ranged to his left to field a grounder from Alfonso Soriano behind the bag, but bounced the throw to first baseman Ike Davis. Davis was unable to scoop it and the ball got by him. Both runners scored as the Cubs briefly grabbed a 2-1 lead.
The official scorer officially ruled it an infield single (very generous) and an E-6 allowing Rizzo to score from second. Both runs were earned because the scorer determined that Rizzo, who otherwise would have been on third base, would have scored on Nate Schierholtz's subsequently shallow lineout to the strong-armed Ankiel in center field.
Gooden tweeted: "Love the way @MattHarvey33 bounced back after the 1st. Sign of a great pitcher in the making"
HIT, MAN: Davis snapped an 0-for-24 skid with a two-out single in the sixth against Jackson. Davis had struck out looking and grounded into a momentum-killing 4-6-3 double play earlier in the game. Davis' skid was the longest by a Met this season. Josh Thole had an 0-for-30 streak in 2012.
WHAT'S NEXT: Mets right-hander Jeremy Hefner (0-4, 4.61 ERA) opposes righty Scott Feldman (3-3, 2.53) at 1:05 p.m. ET Saturday.