WHAT IT MEANS: Talk about a letdown. The Mets are now 0-9 this season in the game after Matt Harvey starts.
Jeremy Hefner departed after surrendering four runs in the fourth inning and remained winless in 2013 as the Chicago Cubs beat the Mets, 8-2, Saturday afternoon at Wrigley Field.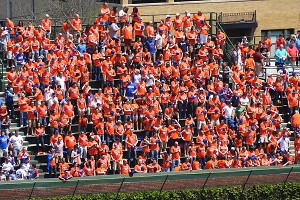 Adam Rubin
Orange-clad Mets fans who dominated the left-center bleachers at Wrigley Field had little to cheer about Saturday.The damage in Hefner's fateful frame included a two-out, two-run double by opposing pitcher Scott Feldman to right-center.
Hefner is now 0-5. The Mets have yet to win any of his eight starts -- matching the second-longest string of losses in one pitcher's starts to open a season in franchise history.
The Mets lost Anthony Young's first 10 starts in 1993, although that streak began when he moved to the rotation in June. They were 0-8 in Randy Jones' starts to open the 1981 season.
Hefner's final line: 4 IP, 5 H, 4 R, 4 ER, 2 BB, 3 K, 1 HBP. Hefner's ERA swelled to 5.00.
DEEP THOUGHTS: Long-ball prone Robert Carson, taking over for Hefner in the fifth, surrendered a homer on the second pitch he threw, to leadoff batter Anthony Rizzo. Carson has now allowed seven homers. That is one shy of matching Hefner's team lead, despite Carson having pitched only 11 innings this season.
IKE WATCH: Ike Davis did not do much to dissuade a looming potential demotion to Triple-A Las Vegas. Davis (0-for-4) combined with Lucas Duda to strand two runners in the first inning. He flied out in each of his first three at-bats, then grounded out to first base to complete a quiet afternoon. Davis also committed a fifth-inning error, when he failed to handle Luis Valbuena's grounder. Davis is 9-for-75 (.120) as the cleanup hitter this season.
The Mets' overall offensive malaise continued. They stranded four in scoring position over the first two innings alone against Feldman, who ultimately tossed 6 2/3 scoreless innings. The lone runs came on a two-run homer by Rick Ankiel in the ninth. The Mets have scored three runs or fewer in 10 of their past 12 games.
DEBUTANT: Collin McHugh made his season debut with the Mets after arriving in St. Louis when Scott Atchison landed on the disabled list with finger numbness. McHugh, who had a 2.74 ERA in eight starts with Las Vegas, surrendered three runs in the eighth, in his second inning of work. He allowed a leadoff homer to Nate Schierholtz and a two-run bloop single by David DeJesus.
WHAT'S NEXT: Dillon Gee (2-5, 6.13 ERA) opposes left-hander Travis Wood (4-2, 2.03) in Sunday's 2:20 p.m. ET rubber game at Wrigley Field.