CHICAGO
FIRST PITCH: The Mets' seven-game trip to St. Louis and Chicago comes to a close this afternoon at Wrigley Field.
Dillon Gee (2-5, 6.13 ERA) opposes Cubs left-hander Travis Wood (4-2, 2.03) in the 2:20 p.m. ET rubber game.
Terry Collins indicated Justin Turner should start at first base over Ike Davis, with Juan Lagares manning center field and Anthony Recker behind the plate.
Sunday's news reports:
• Jeremy Hefner surrendered four fourth-inning runs, including a two-run double to opposing pitcher Scott Feldman, and the Mets were blanked into the ninth inning en route to an 8-2 loss to the Cubs on Saturday at Wrigley Field. Rick Ankiel's two-run homer in the ninth accounted for the only Mets runs.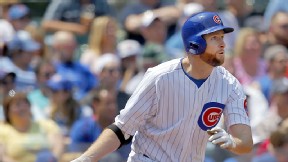 Dennis Wierzbicki/USA TODAY Sports
Cubs pitcher Scott Feldman delivers a two-run double against Jeremy Hefner in a four-run fourth.
Collins said Hefner will remain in the rotation to face the Atlanta Braves on Friday at Citi Field, and will not be skipped even though the Mets have an off-day Thursday. The Mets are now winless in all eight of Hefner's starts this season.
Read game recaps in the Post, Daily News, Times, Star-Ledger, Record, Newsday and MLB.com.
• Davis met with Sandy Alderson and was informed no demotion is "imminent." How much time does Davis have to right things? "Everything comes to a head at some point," Alderson told ESPNNewYork.com. Read more in the Star-Ledger and Newsday.
• Wayne Coffey in the Daily News visits Matt Harvey's hometown of Mystic, Conn. Writes Coffey:
Jesse Hahn, another high school teammate of Harvey's, is a pitcher in the Tampa Bay Rays organization. "What's special about Matt, and he's doing it right now in the big leagues, is the way he attacks hitters," Hahn says. "He knows his strengths and doesn't care what the hitters' strengths are. He's going to come after them."
Harvey is no less aggressive as a hitter, says Hahn, who remembers 400-foot line drives Harvey mashed in high school. "To this day, I'm not sure if any hitter I've seen in pro ball has a hit a ball harder than the balls Matt would hit," Hahn says.
• The Mets asked Major League Baseball to adjust Harvey's ERA from 1.55 to 1.41. Read more in the Daily News.
• Columnist Joel Sherman in the Post suggests it is a waste of energy to scrutinize how Collins has performed as a manager since no one can win with this collection of talent. Writes Sherman:
You want to argue not enough guys have gotten better under his charge, fine, but I would ask if you see many players with high ceilings in his dugout. If you want to insist craftier strategy would have won a few more games, I will disagree, but still wonder if getting to, say, 77 wins would be making anyone happy.
The strongest argument I believe anyone has is that Collins has failed to change the culture -- that there still are too many Mets who feel like they have accomplished something when they haven't, or that the roster still has no collective idea what it takes to put aside individualism and alibis and prioritize winning on a daily basis. But this might be more of a problem from the top of the hierarchy down than someone in middle management, like Collins, could impact.
Read more on Collins from columnist David Lennon in Newsday.
• Andrew Brown, manning right field, drove in four runs as Las Vegas beat Omaha, 9-4. Closer Jeff Walters surrendered a walk-off grand slam as Binghamton lost to Portland, 10-7. Angel Cuan tossed seven scoreless innings and Aderlin Rodriguez had four hits as St. Lucie beat Bradenton, 10-0. Kevin Plawecki twice was hit by pitches and scored and also drove in a run as Savannah beat Augusta, 3-1. Read the full minor league recap here.
• From the bloggers … Faith and Fear in Flushing assumes Mets marketers won't learn anything from how well the Cardinals and Cubs engage their fans in team identity. … Mets Police has plenty of pics from the Mets fans' outing to Wrigley Field. … Mets Report writes demoting Davis would not mean the organization is giving up on him.
BIRTHDAYS: Turk Wendell turns 46. … Catcher Rick Cerone is 59.
TWEET OF THE DAY:
Noooooooo"@metsfan_78: It will be ok #KincksTwitter. You still have the #Mets"

— knicksjetsmets (@diehardfanny) May 19, 2013
YOU'RE UP: Should the Mets skip Jeremy Hefner's turn in the rotation because his next regular day falls on Thursday's team off-day? Or is it better for all the starters to get an extra day of rest and stick with a five-man rotation?