CHICAGO -- Daniel Murphy as the leading man may be more than a cameo.
After Murphy produced a tiebreaking solo homer in the eighth on a fastball from Kyuji Fujikawa and the Mets beat the Chicago Cubs, 4-3, in Sunday's rubber game at Wrigley Field, Collins indicated Murphy may very well remain in the leadoff role beyond the one game.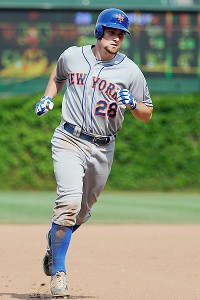 David Banks/USA TODAY Sports
Daniel Murphy circles the bases after his tiebreaking eighth-inning homer.
"Yeah, I might," Collins said. "He gets on base, because he can hit. And when he's swinging good, he can get some walks. We've got to get some people on ahead of David [Wright]. That's for sure."
Said Murphy: "It's probably one of the bigger home runs I've ever hit, just because it's a tie ballgame."
Murphy went 1-for-4 Sunday, capping a seven-game trip to St. Louis and Chicago during which he hit 14-for-28 with four doubles, two homers, a walk and five RBIs. The series finale at Wrigley Field marked the fifth time in his career and first time since 2009 Murphy led off.
"It's still always about quality at-bats," Murphy said.
Murphy had sent a pregame text to his brother Jonathan, who plays for Fort Myers, a Minnesota Twins affiliate in the Class A Florida State League, seeking leadoff advice.
Said Murphy: "His advice was: 'If you're in between on whether or not you want to swing first pitch of the game, take it.' I'll take that going forward. If I'm in between, I'll take it."
Murphy, meanwhile, said he did not have an explanation for his career numbers at Wrigley Field. He is now hitting .357 (15-for-42) with four homers and nine RBIs in 11 career games at the historic ballpark. He only has multiple homers at two other road stadiums, both in the division: Nationals Park in D.C. and Citizens Bank Park in Philly (two homers in 29 games at each ballpark).
"I don't know," Murphy said about the Windy City success.
Murphy's current torrid stretch, actually 15-for-29 if you count the final at-bat of the previous homestand, was preceded by an 0-for-17 skid.
"He's a perfectionist when it comes to hitting, right down to the most minute thing," Collins said. "He thinks about it all. When he gets in a slump, he has to figure it out. He works his tail off to do that. We all knew he was going to start hitting."
Said Murphy, whose average sits at .300: "Sometimes you have to give the pitchers credit, too. You get in a stretch like that, they're pitching you tough. I feel like I'm taking better swings -- I feel better with my swing -- but I'm also getting better pitches to hit. When you're swing is rolling good, you feel comfortable at the plate and you just don't miss them. I feel like that's kind of where I'm at right now."