CHICAGO -- Pedro Feliciano set franchise records for workload by a reliever three straight seasons as a Met: 86, 88 and 92 appearances. The Mets then relied heavily on Tim Byrdak when Feliciano departed for the Yankees.
Both happened to end up requiring shoulder surgery.
Now, after persevering for 14 professional seasons in the minors and independent ball, fellow left-hander Scott Rice is getting the extreme usage with the Mets in 2013.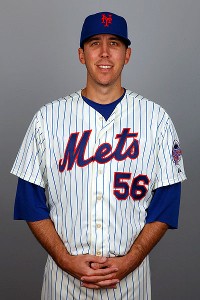 Courtesy of New York Mets
Scott Rice has made an MLB-leading 25 relief appearances.
So far, so good.
But the workload is something to monitor.
Rice retired all six batters he faced in relief of Dillon Gee and earned the victory in the Mets' 4-3 comeback win against the Chicago Cubs on Sunday at Wrigley Field. Greg Burke, Rice and Bobby Parnell actually combined to retire all 12 Cubs they faced.
"We probably won't have Rice tomorrow, but we needed a win today," Terry Collins said.
Rice has made 25 appearances in the Mets' first 41 games, on pace for 99, which would surpass Feliciano's 2010 franchise record. Rice's appearance total is one ahead of Arizona's Brad Ziegler for the major league lead.
Part of the workload is related to Rice's success. Part of it is no other reliable left-handed option exists.
Robert Carson has surrendered seven homers in 11 innings in the majors this season. Josh Edgin has been dispatched to the minors because of his own struggles.
Byrdak, meanwhile, only recently returned to a mound after surgery to repair a torn anterior capsule and is not projected to join the Mets until July. Feliciano remains on the St. Lucie disabled list with severe food poisoning.
Rice is in line for a severe jump in usage from 2012, when he had 54 appearances for Albuquerque, the Triple-A affiliate of the Los Angeles Dodgers.
"If my arm is feeling fine, I'm going to go out there and throw," Rice said. "I'm going to be smart, and I know my body. I know how to take care of myself and prepare myself to throw every day. I have an open-door policy with Terry. If I'm not feeling good, I'm going to go in there and tell him. My arm is feeling fine. I feel like I can help the team win."
Is the workload a concern?
"It's going to be," Collins said. "Right now it's early enough in the year. We've tried to get him some days off. But he keeps pitching four out of five, it's got to be a concern. We've got to certainly pick up some of the workload with somebody else."