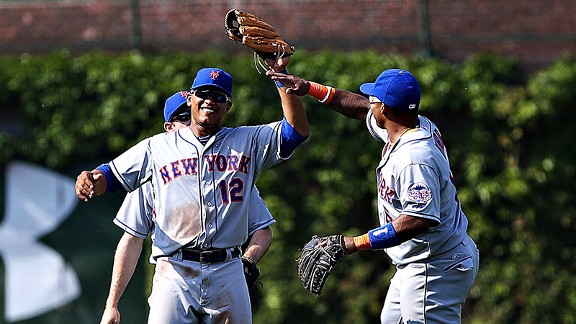 Charles Cherney/Associated Press
Juan Lagares celebrates with fellow outfielders after the Mets beat the Cubs, 4-3, Sunday.
CHICAGO -- Juan Lagares readily acknowledges the slow start to his major league career.
"I haven't done very good, but I just come to the field every day, work hard day by day, and keep positive," Lagares said.
Lagares, 24, had a big moment Sunday. The rookie produced a game-tying two-run homer in the seventh inning against Chicago Cubs left-hander Travis Wood. He finished 2-for-3, for his first career multi-hit game in 15 appearances (11 starts)
#12 RF
New York Mets
2013 STATS
GM

18

HR1

RBI2

R1

OBP.220

AVG

.179
The Mets ultimately won, 4-3.
Lagares is starting in center field only against left-handed pitching, with Rick Ankiel brought in for the platoon role against righties.
The Mets next face three right-handers back in Queens against the Cincinnati Reds -- Johnny Cueto, Mike Leake and Mat Latos -- so the opportunity for Lagares to immediately build on Sunday's success probably does not exist.
In reality, Lagares' major league adjustment -- like many rookies -- is complicated by playing irregularly after being a consistent starter in the minors. He also has to deal with batting eighth, ahead of the pitcher, which means a lot of pitches outside of the strike zone trying to get him to chase.
Lagares, viewed in the minors as a solid defender in any of the three outfield spots, did misread a first-inning shot from David DeJesus on Sunday, resulting in a double and putting Dillon Gee in an early bind.
But he came through late.
"I wanted him to have a chance to play," Terry Collins said about the decision to allow Lagares to hit in the seventh inning against Wood with the Mets trailing by two runs and Ruben Tejada on base with two outs. "… I certainly wasn't expecting a homer, but I thought he might get a base hit, for sure. I'm really, really happy for him, because he's part of that future we keep talking about. It's about playing up here, and learning how to play up here."
The Wrigley Field tradition of throwing back opposing hitters' homers allowed Lagares to painlessly collect the baseball from his first big league homer.
"I don't think the Cubs knew, because the ball boy wouldn't throw it over," said Daniel Murphy, who was in the on-deck circle when Lagares homered. "I had to scream at him. So I didn't get to really see his reaction. But about an inning later, he seemed to be on Cloud 9."
Lagares is now hitting .179 in 39 major league at-bats.
"He's done all right," Collins said. "You know, he got a bad read on that ball in the first inning, but he's a good defender. What he's really working on right now is shrinking the strike zone a little bit so he gets a little bit better balls to hit. It's a work in progress. But he's put up numbers. He's put up numbers wherever he's been.
"Hopefully he starts putting them up here."