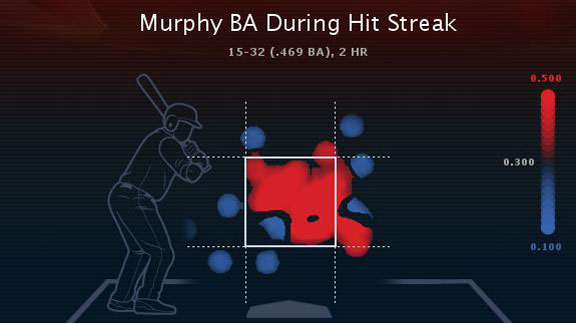 Recapping the Mets' series win over the Cubs this weekend:
What more can Harvey do?
Matt Harvey became the first Mets pitcher to drive in the game winning run in the seventh inning or later of hisvictory since Sid Fernandez did so against the Reds in 1993.
Harvey the Hitter
Two other Mets besides Fernandez and Harvey have done this -- Gerry Arrigo in 1966 and Tom Seaver three times (1971, 1972, and 1973).
My Stats & Info colleagues noted that Harvey was the second pitcher to do that this season (Clayton Kershaw did so against the Giants on Opening Day) and that this was the 15th time that Harvey has allowed five hits or fewer as a starter within his first 20 career appearances.
Four Mets did so 13 times -- Fernandez, Dwight Gooden, Nolan Ryan, and Randy Tate, the latter of whom lasted only a single major-league season (1975).
Scott Rice earns the worst hold ever
We enjoy the work of Mets lefty reliever Scott Rice, but have to wonder how the heck he earned a hold in Friday's win. Rice pitched to one batter and allowed a hit, and was fortunate that Marlon Byrd threw out a baserunner at home to preserve the one-run lead.
Rice is the only Mets pitcher ever to earn a hold under the following criteria.
A- Pitched the eighth inning or later
B- Pitched to one batter and allowed a hit
C- Had the tying run thrown out at the plate.
Such a hold hadn't happened in the majors since 1995 (Stan Belinda).
Inside Murphy's hot streak
Daniel Murphy went 4-for-12 with two home runs in the series, including the game-winner in Sunday's comeback victory. That hit extended Murphy's hitting streak to eight games.
Daniel Murphy
In that run, Murphy is 15-for-32 and 15-for-25 when he makes contact.
During the hitting streak, Murphy's line-drive rate is an outrageous 40 percent. He's 10-for-10 when hitting a line drive.
The pitch that Murphy is crushing during this hitting streak is the one thrown in and above the upper-half of the strike zone. He's 9-for-14 with four doubles and Sunday's game-winning homer in at-bats that end with pitches to that area.
Murphy is the third Met in the last 20 seasons to hit a go-ahead homer in the eighth inning or later of a game in Wrigley Field. The other two are Mike Piazza (2002) and Doug Mientkiewicz (2005).
The Mientkiewicz homer is familiar to one current Met -- it was given up by current Mets reliever LaTroy Hawkins.
Wood you believe?
The Mets won Sunday despite allowing a two-run home run to opposing starter Travis Wood. They are now 13-68 all-time in games in which the opposing pitcher homers, but 3-2 in the five times it has happened in the last five seasons (winning games in which Paul Maholm and Adam Wainwright homered).
Perhaps more amazing: This was only the third time in Mets history that they won a game in which an opposing pitcher hit a multi-run homer.
The other two instances were in 1964 (Wade Blasingame for the Braves) and 1966 (future Met Ray Sadecki for the Giants).