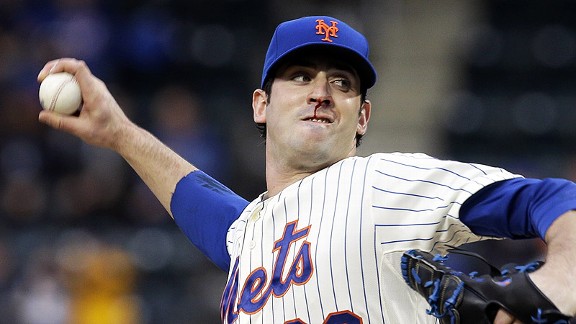 Seth Wenig/Associated Press
Relax everyone, Matt Harvey pitches at Citi Field today ... hopefully without the bloody nose.
FIRST PITCH: Matt Harvey gives Mets fans their once-every-five-days reprieve from an otherwise miserable season when he opposes unbeaten Cincinnati Reds right-hander Mat Latos (4-0, 2.91 ERA) at 1:10 p.m.
Since his major league debut last July 26 at Arizona, Harvey has compiled a 2.12 ERA, which ranks third in the majors during that span.
This season, Harvey's 1.55 ERA also ranks third in the majors, trailing only the Dodgers' Clayton Kershaw (1.35) and Diamondbacks' Patrick Corbin (1.44).
The Reds will bid for a three-game sweep at Citi Field for the second straight season.
Wednesday's news reports:
• Sandy Alderson, appearing on the SNY telecast during last night's game, said about potentially demoting Ike Davis: "It's hard to ignore what happened last year. No. 1, we went through the same scenario the first part of the year. It's troubling that it's happened again. The positive is he did so well in the second half. So I think it's hard to ignore that. At the same time, you do have to think about what might be different this year than it was last year. … It may be he is better off going to Las Vegas for some period of time. But at this point we're going to live with Ike for a little longer."
Alderson added that he believes Zack Wheeler will merit consideration for a promotion after two or three more outings with Las Vegas (without stating the promotion will be after the projected Super 2 deadline, which seems like common sense). The GM also believes Travis d'Arnaud, who will wear a protective boot on his fractured left foot for another nine days, will appear in the majors this season.
Watch Alderson's appearance here. Read more in the Post.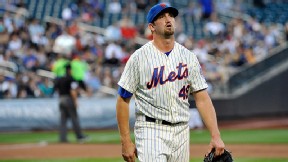 Kathy Kmonicek/Associated Press
Jon Niese threw 48 pitches in the first inning Tuesday.
• David Wright had a two-out grounder go through his legs with the bases loaded and two runs scored in what became a 48-pitch, three-run first inning for Jonathon Niese. Niese managed to complete six innings despite the heavy first-inning workload, but the Mets again mustered no offense and lost to the Reds, 4-0, Tuesday. Collin McHugh surrendered a solo homer to Devin Mesoraco in the ninth for the lone other run.
The Mets' three hits matched a season low. They have scored three runs or fewer in nine straight home games, matching the ninth-longest streak in franchise history.
Davis, the focus of boos, stranded two in scoring position with a fourth-inning groundout against Reds starter Mike Leake, his teammate at Arizona State. Davis is 0-for-24 with runners in scoring position in his past 18 games.
The Mets are 2-10 in their past dozen home games.
Read game recaps in the Post, Daily News, Newsday, Times, Star-Ledger, Record and MLB.com.
• Jeremy Hefner appeared on "Outside the Lines" Wednesday to discuss the disaster wrought by a tornado in his former hometown of Moore, Okla. Hefner attended kindergarten and first grade at Briarwood Elementary, which was destroyed in the twister. He remains an Oklahoman. Watch the ESPN video here. Read more in the Times and Newsday.
• Columnist Kevin Kernan in the Post writes about Harvey Day:
Harvey is having fun. When he took the field for pregame stretching last night "Clique'' by Kanye West, Jay-Z and Big Sean was blaring throughout Citi Field. To his teammates' delight Harvey busted some moves. Clique is off the album "Cruel Summer.''
Indeed.
On game day, Harvey is all business. From bloody noses to all kinds of weather to playing for a team that has to scale a mountain to score a run, nothing seems to stop Harvey from doing his job.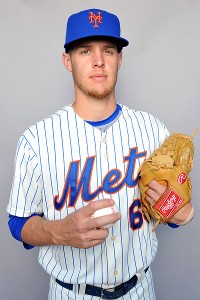 Steve Mitchell/USA TODAY Sports
Zack Wheeler is back on the mound for Las Vegas today after missing one start.
• Wheeler is due to reenter the Las Vegas rotation today at 1:05 p.m. ET at Iowa after missing a turn. He received a cortisone injection last Wednesday at the Hospital for Special Surgery in Manhattan for swelling in the AC joint in his right shoulder.
• In a spot start in his Triple-A debut, Rafael Montero took a scoreless effort into the seventh and final inning of Game 1 of a doubleheader. He then allowed a leadoff homer to Brian Bogusevic and departed with the score tied at 1 after a two-out walk. Josh Edgin entered and allowed the inherited run to score as Montero was tagged with a loss in his first appearance with the 51s. Las Vegas was swept with a 6-5 loss in Game 2. The 51s scored five runs in the top of the sixth to even the score, then Gonzalez Germen surrendered the tiebreaking run in the bottom half of the inning. Read the full minor league recap here.
• Montreal has named a street in the city after the late Expo/Met Gary Carter. Read more in the Montreal Gazette.
• Due to limited demand compared with previous seasons, Mets-Yankees Subway Series tickets for next week are not skyrocketing in price on the secondary market, reports Mark La Monica in Newsday. Writes La Monica:
The combined average price for the four-game Subway Series (May 27-30) this year is $133 as of Monday, according to TiqIQ.com, a ticket reseller that aggregates ticket prices across multiple secondary markets. That's down 13 percent from 2012, 19 percent from 2011 and 34 percent from 2010.
• From the bloggers … The Eddie Kranepool Society looks at fan relations at Citi Field. .. Shannon from Mets Police wonders why there is a banner of Keith Miller outside Citi Field.
BIRTHDAYS: Collin Cowgill turns 27. He is hitting .236 with two homers and six RBIs and has a .333 on-base percentage in 15 games with Las Vegas since debuting with the Pacific Coast League club on May 4.
TWEET OF THE DAY:
At least Ike didn't strike out!!.. that's progress @adamrubinespn

— anthony Manners (@MannersNYC) May 22, 2013
YOU'RE UP: Do you approve of the Mets' patience with Ike Davis?