Binghamton outfielder Cory Vaughn is the reigning Eastern League Player of the Week.
He starred alongside Nats ace Stephen Strasburg and White Sox closer Addison Reed for Tony Gwynn at San Diego State.
And Vaughn's father, Greg, played 15 big league seasons, primarily with Milwaukee.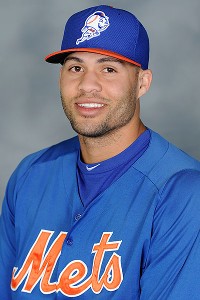 Courtesy of New York Mets
Cory Vaughn
Yet the 24-year-old Vaughn's story extends beyond all of those topics.
Since being diagnosed with juvenile diabetes at 11 years old, Vaughn has been required to monitor his blood sugar, even during games. If his blood sugar is a little high, he will change the dial on the insulin pump in the back, left pocket of his baseball pants to increase his insulin dose. A tube runs into his body. He slides on his right side -- the opposite side from the pump.
"Everybody thinks it's like a cell phone or a pager in my pocket when I'm up there, but it's just the insulin pump," Vaughn said. "It's not easy, but it could be much worse. I'll probably test like five times during the game just to make sure, because if my numbers are a little bit off -- if I'm high -- it's like the sugar surrounds your cornea and whatnot and your vision gets a little blurry. I just have to make sure it's in the happy median range. If I go too low, I'm sluggish and I feel like I'm about to pass out."
While many of his St. Lucie teammates received promotions after winning a first-half division title in 2012, Vaughn remained in the Florida State League for the full season, ultimately hitting .243 with 23 homers and 69 RBIs in 456 at-bats.
Now, he is having a strong season with Double-A Binghamton (.298, 5 HR, 27 RBIs in 121 at-bats). And with the Mets' outfield thin and Vaughn needing to be added to the 40-man roster after the season if the Mets want to protect him from Rule 5 draft eligibility, continued production could land Vaughn a September call-up.
"When I was in Savannah, I was hitting .350 with two weeks left to go in the first half and I started panicking about home runs because I only had four," Vaughn said. "I panicked and I dropped to .286 with two weeks left and I went like 0-for-32. Ever since then, I've never been one to panic off of power numbers. This year I've been trying to be a complete player and take what they give me."
B-Mets hitting coach Luis Natera noted power does not always come right away as a professional, so Vaughn should not have fretted and changed his approach when he was not producing homers in low-A. Now, Vaughn is doing a better job with selectivity even within the strike zone.
"I think I'm just not panicking as much," Vaughn said. "I'm just going out there and having fun. Up here, if it's 3-1, 2-0, they're not just going to be throwing a 'cookie' every time. If they throw me a slider 3-1 and I'm not looking for it, or looking wherever they throw it, I'm going to take it as opposed to just swinging and getting a rollover groundout."
Said Natera: "The most important thing right now is he's not afraid to hit with two strikes. So he doesn't swing at borderline pitches early in the count. He's not afraid. Now, he gets more good pitches to hit."
Organization leaders
Average: Andrew Brown, Vegas, .371; Kevin Plawecki, Savannah, .356; Jayce Boyd, Savannah, .338; Cesar Puello, Binghamton, .315; Josh Satin, Vegas, .303; Jamie Hoffmann, Vegas, .303; T.J. Rivera, St. Lucie, .300; Cory Vaughn, Binghamton, .298; Rylan Sandoval, St. Lucie, .291; Allan Dykstra, Binghamton, .287.
Homers: Dustin Lawley, St. Lucie, 10; Aderlin Rodriguez, St. Lucie, 8; Cesar Puello, Binghamton, 6; Josh Satin, Vegas, 6.
RBI: Dustin Lawley, St. Lucie, 36; Andrew Brown, Vegas, 32; Aderlin Rodriguez, St. Lucie, 32; Jayce Boyd, Savannah, 30; Kevin Plawecki, Savannah, 30.
Steals: Alonzo Harris, Binghamton, 13; Cesar Puello, Binghamton, 9; Darrell Ceciliani, Binghamton, 8; Danny Muno, Binghamton, 6; Cory Vaughn, Binghamton, 6.
ERA: Rainy Lara, Savannah, 1.17; Bowman, St. Lucie, 2.49; Noah Syndergaard, St. Lucie, 2.62; Collin McHugh, Vegas, 2.74; Steven Matz, Savannah, 2.86; Logan Verrett, Binghamton, 3.28; Rafael Montero, Vegas, 3.38; Hansel Robles, St. Lucie, 3.38; Gabriel Ynoa, Savannah, 3.55.
Wins: Matt Bowman, St. Lucie, 6; Logan Verrett, Binghamton, 6; Gabriel Ynoa, Savannah, 5.
Saves: Jeff Walters, Binghamton, 12; Bret Mitchell, Savannah, 8; T.J. Chism, St. Lucie, 4; Beck Wheeler, Savannah, 3.
Strikeouts: Rafael Montero, Vegas, 59; Matt Bowman, St. Lucie, 53; Noah Syndergaard, St. Lucie, 48; Rainy Lara, Savannah, 47; Zack Wheeler, Vegas, 47.
Short hops
• Rafael Montero's spot start with Triple-A Las Vegas was solid. Montero took a scoreless effort into the final inning of a seven-inning game Tuesday at Iowa in his Pacific Coast League debut. He allowed a leadoff homer in the seventh to Brian Bogusevic that evened the score at 1. After a two-out walk in that frame, Josh Edgin entered and allowed the inherited run to score as Montero (6.2 IP, 4 H, 2 R, 2 ER, 1 BB, 5 K) was charged with a hard-luck loss.
• Bradley Marquez, a 16th-round pick in 2011, has arrived at the Mets' complex in Port St. Lucie, Fla. Marquez splits his time between playing college football at Texas Tech and playing in the minors for the Mets. He suffered a season-ending ligament tear in his right knee last fall playing football, but is OK to play with a short-season baseball affiliate this summer. A wide receiver, he participated in Red Raiders spring football with the exception of scrimmages that might expose the knee to serious contact. Marquez was limited to nine games last season with Kingsport because of a quadriceps injury.
• Right-hander Rainy Lara (4-1, 1.17 ERA) has been named the South Atlantic League Pitcher of the Week for the second time in three weeks. Lara, 22, appeared an afterthought early in 2012 but forced his way into Brooklyn's rotation last year after solid production in extended spring training.
• Zack Wheeler, who received a cortisone injection in his right shoulder for modest swelling in the AC joint last Wednesday, returns to Las Vegas' rotation this afternoon at Iowa after missing one turn. Wheeler has a 1.35 ERA over his past three starts with the 51s.
• Right fielder Cesar Puello is heating up with Binghamton. His two-run homer Tuesday at New Britain was his sixth long ball in May. He is hitting .338 this month.
• Veteran reliever David Aardsma, 31, has joined Las Vegas. He last appeared in the majors for one appearances last season with the Yankees.
• Mets officials say Brandon Nimmo was prepared to return from a long absence for a bruised hand when he tweaked his lower back. Nimmo, the organization's 2011 first-round pick, last appeared for Savannah on April 29.
• Michael Fulmer, who underwent surgery to repair a torn meniscus, will resume pitching in an extended spring training game next week.
• Left-hander Darin Gorski, who suffered a shoulder strain while with Las Vegas, is due to throw two innings in extended spring training.
• Binghamton speedster Alonzo Harris received five stitches in the index finger on his right hand after cutting himself during a stolen-base attempt Monday. The stitches need to stay in for 10 days, and Harris may not return until they are removed.