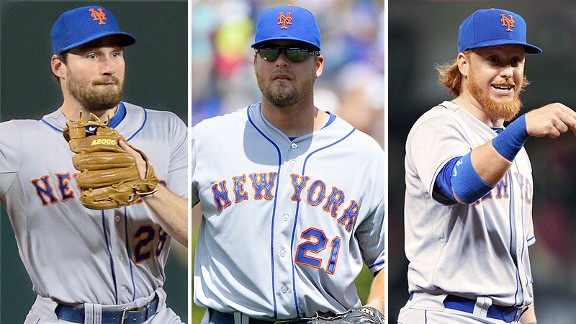 Getty Images
Daniel Murphy, Lucas Duda and Justin Turner would be first-base candidates if Ike Davis is demoted.
Terry Collins said the Mets have not internally started to discuss first-base replacements if Ike Davis is demoted, but the manager acknowledged Daniel Murphy, Lucas Duda and Justin Turner would be the clear choices.
"If Ike's not here, we have several options," Collins said. "Now have we discussed them? No. Because he's the first baseman still. But you've got Lucas, you've got Dan Murphy, you've got Justin Turner. We've got options. But no one has discussed anything about any replacements yet."
Collins noted Davis would need to demonstrate changes if he ended up in the minors, not just merely launch a few fly balls that happen to end up homers because the ball carries in the Pacific Coast League.
"I've had a few players of Ike's stature that came back to the minor leagues," Collins said, referring to his time managing in Triple-A. "And I used to tell them: Look, you've got 24 hours to be unhappy. And, after that, your job is to get back. You have two choices: They're either going to be right by sending you down or they're going to be wrong by sending you down. What do you want to do? Now, we've got to go to work. Complain, do all the stuff you want to do for 24 hours. And then we've got to get back to work.
"Obviously, in this situation, where we're going to Vegas, it could be that Ike Davis hits five fly balls and hits five home runs. Does that mean he's ready to come back? I don't know. If he is sent out, the reports have got to be his swing is more consistent. He's driving balls to left field, left-center field, staying on the ball better, not swinging at balls out of the strike zone. Those types of things are the reports you want to hear. But in the development of those types of guys, the first thing you have to do is make sure their mind is right. 'I got off to a bad start. I've got to fix it. Let's go get it fixed and I'll get back there.' ...
"Sometimes you send them to a place like Vegas, that confidence will come back in a hurry. I've seen some guys go down there and hit the ball pretty good and all of a sudden, 'Boy, I'm ready now.' ... But in Ike's case, I don't want, if something should happen and he goes to Vegas, to look up and have him hit a home run tonight and a home run tomorrow and a home run the next day and all of a sudden say, 'He's back.' I think the process is going to be a little longer than that."
Collins said he does not think the daily chatter about a potential Davis demotion is having a harmful impact on the team in general.
"I don't know if it overwhelms the other guys," Collins said. "It's certainly tough on Ike. At this level, every player puts an added amount of pressure on themselves when they're the go-to guys. Now, with all the focus and all the questions, there's even more pressure on Ike. And that's why we've tried to take a little bit off with the conversation Sandy [Alderson] had last week in Chicago with him, to try to ease his mind a little bit -- 'Hey, look, focus on the game. Don't focus on the stuff off the field.' That's why I took him out of the fourth hole. He's got enough heat on him, let alone hit in the fourth hole and struggle."