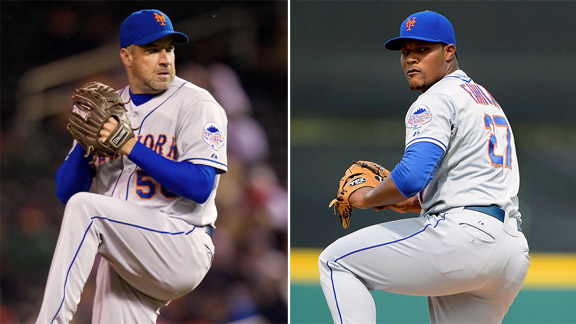 Getty Images/Associated Press
Scott Atchison should rejoin the Mets after one more rehab appearance, while Jeurys Familia's next stop appears Las Vegas.
Scott Atchison, who began a rehab assignment with a scoreless inning Saturday with Class A St. Lucie, likely will rejoin the Mets after one more appearance with the Florida State League club.
Atchison landed on the DL after a May 13 appearance at St. Louis with elbow inflammation that caused numbness in his fingers.
"I think it depends on what happens in Scott's next outing, but that's the plan at the moment," Alderson said about activating Atchison this week.
Alderson expects Jeurys Familia, who also began a rehab assignment Saturday with St. Lucie, to move to Triple-A Las Vegas for continued work. Familia (biceps tendnitis) could end up taken off a rehab assignment and optioned to the 51s rather than return to the Mets when he is deemed ready.
"What have we got -- three guys out of the pen on the disabled list right now, including Frankie?" Alderson said, referring to Frank Francisco. "So we'll just have to see how things go. Obviously Familia is somebody we're counting on long term. We'll just have to decide what's best for that long-term development -- whether he pitches here or he pitches there for a while. We'll see."
Also on the DL front, Jenrry Mejia (forearm tendinitis) may be ready to move to a higher level after two starts with St. Lucie.
"We're going to decide here in the next couple of days," Alderson said. "It just depends. He threw well and he felt fine the last time out. He went five innings. So I think he's close."
Alderson said there is nothing materially different with the nebulous status of Francisco (elbow).