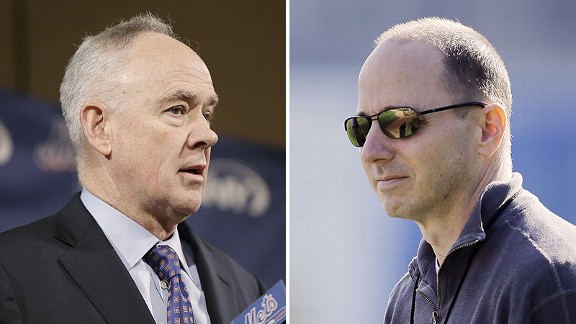 Associated Press
Sandy Alderson paid a compliment Sunday to the way Brian Cashman has kept the Yankees competitive.The Yankees usually bludgeon teams based on big-ticket mercenaries. Not this year, due to injuries.
Yet the Bronx Bombers will arrive at Citi Field on Monday with a 30-19 record, tied with the Boston Red Sox for first place in the AL East.
The retreads Brian Cashman has received major contributions from include Lyle Overbay, Vernon Wells and Travis Hafner.
"They've continued to play well in spite of their injuries," Sandy Alderson said. "They've gotten tremendous contributions from many of the players whom they acquired late in spring training or early in the season. You have to admire that. It's shone a different light on the Yankees and the Yankees franchise what Brian Cashman has been able to do there."
Obviously, the Mets have not had the same success picking low-budget players to contribute as placeholders until the farm system starts kicking out players.
Were the Yankees lucky?
"What I've always said it you've got to put yourself in a position to get lucky," Alderson said. "That's what we've tried to do here. They've done a very nice job. They've sorted through a few players, but there definitely have been a lot of keepers. That's to their credit."
As for the upcoming Subway Series in general, Alderson said he "wouldn't look at it as a measuring stick." The Mets have not won a season series against the Yankees since 2008.
Said the GM: "I think it brings into focus the rivalry, and very definitely from our standpoint sort of reaffirms the standard to which we aspire. From that sense, it's a reminder, as opposed to anything else. I've enjoyed the games since I've been here. I hope to enjoy them more as time goes on and we have a little more success against the Yankees."
Alderson said he has no strong feelings about the reduction in games against the Yankees from six to four. He is pleased, more generally, that all of the NL East schedules are more equitable now that each division has five teams and the Mets, like their division rivals, all play most of their interleague games against the AL Central this year.
"Whatever they tell us -- four, six -- we'll play the games," Alderson said. "From that standpoint, I don't really have an opinion. I do like a more balanced schedule overall. I'm not sure the reduction from six to four has contributed to that. But as far as this series is concerned, four or six is immaterial to us."