Zack Wheeler likely will be capped at 180 to 185 innings this year, meaning he could face the same mid-September shutdown that Matt Harvey experienced last season.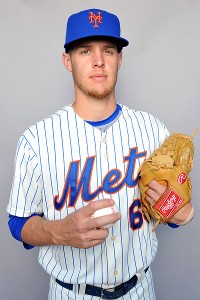 Steve Mitchell/USA TODAY Sports
Zack Wheeler should be capped at 180-185 innings this season.
Wheeler (3-1, 3.91 ERA), who missed one start this year after getting a cortisone injection in his right shoulder for AC joint inflammation, currently is at 48 1/3 innings after nine starts. He pitches against for Triple-A Las Vegas on Monday.
Wheeler threw 149 innings last season between Double-A Binghamton and Triple-A Buffalo.
"Given that base, he's probably this year limited to about 180, 185, which ought to be plenty," Sandy Alderson said. "It's roughly in the same area [as Harvey last season]. We try to build maybe 30 innings per year. In Matt's case, he came through the system so quickly that he didn't really have a chance to build that base quite as high as Zack has. But about 180, I think, 185 is probably something we're looking at."
Wheeler is widely expected to be promoted in mid-June, after the Mets are comfortable the Super 2 deadline has passed.
"Zack has pitched once since he had his shoulder examined," Alderson said. "He came out of that fine. I believe he's pitching again tomorrow. So we'll see where he goes from there. Is there a timetable? No, I wouldn't say there is a timetable. But, at the same time, I would say if he continues to pitch well he will be here sometime in the near future."