Twenty-four hours before the Subway Series, David Wright had given the matchup with the Yankees no thought.
The Mets, losers of five straight and 12 of 15, merely need to get a win. It doesn't matter against what opponent.
"I haven't even thought about the Yankees," Wright said before the Mets faced the Atlanta Braves in Sunday night's series finale. "We're going through such a rough stretch that we need to worry about the Braves.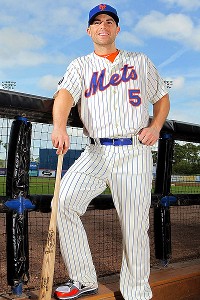 Marc Serota/Getty Images
David Wright acknowledged mounting frustration with the losing.
"The Yankees, it's a fun series. It's good for the fans. I think the players enjoy it. You have that divide in New York that kind of brings the city together. But, as far as we're concerned, as I mentioned before, the last thing on our minds right now is the Yankees. We're trying to salvage the [Braves] series and get a game.
"It's about wins, not necessarily who they come against," Wright continued. "The biggest thing is confidence-wise, we obviously don't have much confidence right now considering that we're not playing very good baseball. But that can change pretty quickly in this game. You get a win tonight against a good team and your confidence builds a little bit. We hope that can jump-start us into a nice little hot streak."
GM Sandy Alderson and Wright both acknowledged mounting frustration.
"I'm sure there's frustration in the clubhouse at this point," Alderson said. "I mean, we're all frustrated. But we have to deal with the reality of where we are. That requires us to move forward and come up with the answers."
Said Wright: "Everybody, whether you're a fan, a player, owner, front office, coach, is probably frustrated with the way we're playing right now. That's an understatement. But the only way to change that is to keep plugging and change the results. You don't get out of the kind of frustration that we're at right now by doing anything but winning. That's the way to solve that problem."