Cancel the flight to Las Vegas. Ike Davis finally has something to feel good about.
Davis delivered a tiebreaking two-run single through the right side of the infield against Cory Gearrin with the bases loaded in the eighth, and the Mets snapped a five-game losing streak with a 4-2 win against the Atlanta Braves on Sunday night.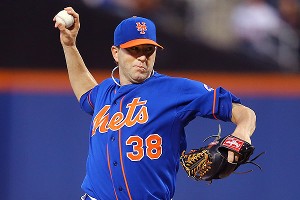 Al Bello/Getty Images
Shaun Marcum suffered a tough-luck no-decision, but it beat a loss.
With the Mets (18-29) trailing by a run, Justin Turner singled to begin the eighth. Lucas Duda then delivered his third hit, a double to the left-field corner that placed two in scoring position. John Buck's RBI single evened the score at 2.
Davis reached base three times in four plate appearances.
He walked in his first plate appearance, then was credited with an infield single the next time he stepped to the plate. On that fourth-inning grounder, Dan Uggla made a stellar diving stop to his left at second base. But, with time, Uggla bounced a throw that first baseman Freddie Freeman could not handle. The official scorer awarded Davis a hit. Davis grounded out to second base in the seventh.
Davis is 4-for-his-last-47. Or, if you prefer, 3-for-his-last-5. His average now stands at .158.
On the mark: Uggla pummeled a two-run homer into the second deck in left field in the seventh inning to spoil a gem from Shaun Marcum.
Marcum, who set a new career high with 12 strikeouts in a no-decision, had taken a 1-0 lead into the frame. Justin Upton led off the inning with an infield single by beating out a grounder to shortstop Ruben Tejada. Upton then stole second on Freeman's strikeout. Uggla then blasted the monster two-run homer, on Marcum's 100th pitch.
Marcum's final line: 7 IP, 4 H, 2 R, 2 ER, 0 BB, 12 K, 1 HBP, 1 HR.
Marcum's previous strikeout high was 11, achieved June 16, 2007, with Toronto against Washington.
Of course, the Braves and Houston Astros are on pace to become the second and third teams in major league history to strike out 1,400 times in a season. Arizona has the MLB record, with 1,529 K's in 2010. Justin Upton was on that Diamondbacks team, too.
Marcum had retired 13 straight Braves at one point, until a two-out double by Andrelton Simmons in the sixth. Simmons was stranded when Jason Heyward struck out looking.
Dude! Duda's solo homer against Julio Teheran in the fourth opened the scoring. It was the ninth homer of season for Duda, who has a 10-game hitting streak.
What's next: The Mets host the Yankees in the opener a four-game, two-borough series Monday at 7:10 p.m. Jonathon Niese (3-5, 4.80 ERA) opposes right-hander Phil Hughes (2-3, 5.51).