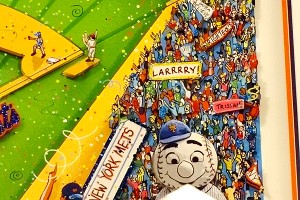 Adam Rubin
A close-up look at a portion of the artwork the Mets presented retiring Chipper Jones last September.
Retiring Mariano Rivera will be honored by the Mets this afternoon, before his final regular-season game at Citi Field. (He'll be back for the All-Star Game.)
Like with Chipper Jones upon his final visit to Queens last season, the Rivera ceremony will be held for media only in a press-conference room a few hours before the game's first pitch.
A small portion of the Chipper ceremony last Sept. 9 was replayed for fans on the Citi Field scoreboard in the evening. The Mets presented him with three-dimensional artwork showing him batting in Queens.
Chipper, by the way, only appeared in the ninth inning in his last game at Citi Field. Manager Fredi Gonzalez sat the third baseman because of fluid buildup in his left knee, but sent him up as a pinch hitter. Jones, in his farewell to Flushing, walked on four pitches and was replaced by a pinch runner. He received a standing ovation as he returned to the dugout, capping warm treatment by Mets fans for the most part all weekend.
With Matt Harvey on the mound for the Mets tonight, will Rivera have a chance to appear in the ninth inning? Mets fans hope not.