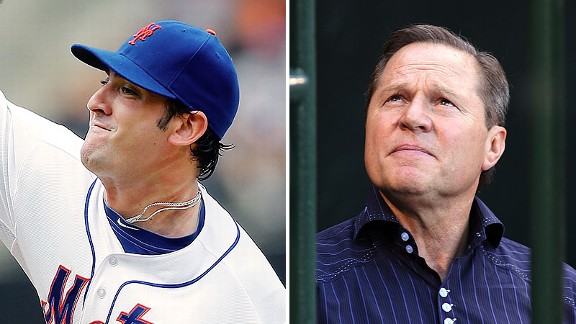 Getty Images
Scott Boras represents Mets phenom Matt Harvey.
Scott Boras has known Matt Harvey since the Mets phenom pitched in high school. And Harvey's success entering Tuesday night's start opposite Hiroki Kuroda comes as no shock to the super agent.
"We've known Matt since he was 17 years old, so we're not too surprised," Boras said. "The only thing I was surprised about was at the draft there were so few teams that really understood this player. … It was kind of obvious to us when we advised him to turn down $1 million from the Angels [as a third-round pick out of high school] that he was going to optimize himself and his performance."
#33 SP
New York Mets
2013 STATS
Harvey will only have one year, 72 days of service time at the end of this season. He will not be eligible for arbitration for the first time until the 2015-16 offseason. He won't be eligible for free agency until after the 2018 season.
So is it too soon to begin thinking about a long-term contract that covers Harvey's arbitration years and potentially some of his free-agency years?
Very likely, yes.
In reality, Harvey may never entertain such an offer until he reaches free-agency eligibility.
"I don't think there's any question that the reason a club offers a player guarantees when they don't have to is they deem it to be beneficial to them -- just by the nature that they offer them," Boras said. "So if the club is doing something beneficial for the club, obviously most likely it's not beneficial to the player.
"On the other side, I do think there's a melding in there. There are situations -- I've done contracts for Carlos Gonzalez, or just recently I did one for Elvis Andrus -- to where there is a melding of the club's wants and the player's wants where you do things in advance of free agency."
Gonzalez, with two years of MLB service time under his belt, signed a seven-year, $80 million deal with the Colorado Rockies on Jan. 11, 2011.
Gonzalez's contract covered one year pre-arbitration, three years of arbitration and three years of free agency. But that deal was client- and family-driven, not something Boras probably would have recommended. It's hard to fathom Harvey does something similar. And Harvey would not be at a comparable MLB service time to the point at which Gonzalez signed with the Rockies until after the 2014 season anyway.
"That's not something I normally recommend. It's up to the client," Boras said. "I have clients across the board. Prince Fielder became a free agent and turned down a lot of money and Jered Weaver signed before free agency. It's really something we do where we advise the player. We give him choices. And they make a decision."
Harvey had the intestinal fortitude to turn down a seven-figure offer out of high school. He instead attended the University of North Carolina for three years. He parlayed that into a $2.525 million signing bonus with the Mets three years later as the seventh overall pick.
So clearly, it would seem reasonable to deduce, Harvey would again have the stomach to forego the lure of guaranteed money for a potentially much greater payday down the road. Translation: Don't expect a long-term contract any time soon -- if at all in advance of free-agency eligibility.
"Again, these are Matt's decisions," Boras said. "I would say that Matt off the field is like he is on the field -- and that is a learned, patient, talented decision-maker."
Signing a deal with less than two years of service time on his résumé is unlikely to be seriously entertained next offseason regardless. It's just too soon.
"Usually the club wants to see more and usually the offers that are provided are not in the realm off good business practices for the player," Boras said.
Meanwhile, Harvey clearly can use some help with the Mets, who enter his Tuesday night start against the Yankees 10 games under .500.
The Mets should receive one jolt soon when Zack Wheeler enters the rotation.
"It could be an exciting time," Boras said. "They're so starved position-player-wise, which is a problem, so they've got a lot of work to do in free agency."