Right-hander Matt Bowman was unsure in March whether he would break camp with low-A Savannah. He suspected he might have to wait until Brooklyn started play in June in order to begin his regular season.
Now, Bowman has breezed past Savannah to high-A St. Lucie. He and second-round pick Matt Reynolds are the only 2012 Mets draft picks to already have reached the Florida State League.
"I'm incredibly happy about it," said Bowman, who is a combined 7-0 with a 2.50 ERA in nine starts between the two Class A levels. "Going into spring training I was hoping to make the Savannah team as a starter. I actually thought I might be going to Brooklyn as a starter because I was piggybacking last year. And I knew the Brooklyn staff last year was so successful that I thought it would be hard to crack that rotation. I was very happy to go to Savannah. And I was more than a little surprised when they told me I was going up here to Port St. Lucie."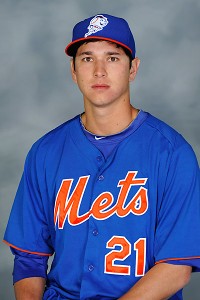 Courtesy of New York Mets
Matt Bowman
Bowman, drafted in the 13th round out of Princeton after his junior year, should complete his degree in economics this fall. He also spent last fall at the Ivy League institution after pitching for Brooklyn during the summer.
Princeton students are required to write junior- and senior-year theses. Bowman wrote his first thesis on MLB ticket pricing on the secondary market in conjunction with the Phillies. He plans to pick his senior-year thesis shortly and work on it in the mornings during the baseball season, since the fall alone will not be enough time to complete it.
Another Princeton graduate, ex-Met Chris Young, also chose a baseball topic for his thesis. He studied the impact of Jackie Robinson's breaking the color barrier in baseball on the tone of race coverage in general in The New York Times during that era.
"It might look into sabermetrics," Bowman said about his thesis ideas. "I know that doing a baseball topic will keep me interested. I've also looked into certain things like different ways we can pay for college tuition in national programs. But I think if I'm going to stay interested, I'll probably do another baseball topic."
Bowman currently throws five pitches, but plans to scrap his changeup once he gets more comfortable with his split-finger fastball. He touched 94-95 mph in Brooklyn last year while working a few innings in relief of the starter every fifth day, but rarely shows that velocity this year as a starter -- mostly because his fastball tends to flatten out and stay up in the zone with the extra oomph. He will show it occasionally with two strikes.
Bowman's most interesting facet may be his delivery, which is similar in style to Tim Lincecum's.
"It's a little bit of coincidence, a little bit of conscious decision-making," Bowman said. "In high school I was a pretty standard-looking pitcher. But when I tried to get a little extra on my pitches, I'd do that lean back and it would look pretty similar. And then I actually saw him while I was in high school, after I started doing that. And I thought, 'Wow, it's very impressive that he's so small, but he can throw the ball so hard.'
"I sort of used that as a model for a little bit. I tried to mimic some of the things he did, but I think I almost tried to be too much like him. He is certainly more athletic and flexible and has better body control than I do. So I sort of toned it down. Now I'm sort of at a happy medium where it's a little bit of my style and there are similarities in look, but certainly not stuff."
Organization leaders
Average: Andrew Brown, Vegas, .371; Jayce Boyd, Savannah, .354; Kevin Plawecki, Savannah, .346; Omar Quintanilla, Vegas, .328; ; Allan Dykstra, Binghamton, .306; Josh Satin, Vegas, .303; Josh Rodriguez, Binghamton, .300; Jamie Hoffmann, Vegas, .297; Cesar Puello, Binghamton, .296.
Homers: Dustin Lawley, St. Lucie, 10; Aderlin Rodriguez, St. Lucie, 9; Josh Satin, Vegas, 8; Kirk Nieuwenhuis, Vegas, 7; Cesar Puello, Binghamton, 7.
RBI: Dustin Lawley, St. Lucie, 37; Aderlin Rodriguez, St. Lucie, 37; Kevin Plawecki, Savannah, 36; Wilmer Flores, Vegas, 32.
Steals: Alonzo Harris, Binghamton, 13; Cesar Puello, Binghamton, 12; Darrell Ceciliani, Binghamton, 12; Cory Vaughn, Binghamton, 7; Danny Muno, Binghamton, 6.
ERA: Rainy Lara, St. Lucie, 1.42; Bowman, St. Lucie, 2.50; Collin McHugh, Vegas, 2.74; Noah Syndergaard, St. Lucie, 2.86; Rafael Montero, Vegas, 3.03; Logan Verrett, Binghamton, 3.07; Gabriel Ynoa, Savannah, 3.19; Angel Cuan, St. Lucie, 3.69; Zack Wheeler, Vegas, 4.13.
Wins: Matt Bowman, St. Lucie, 7; Logan Verrett, Binghamton, 6; Gabriel Ynoa, Savannah, 6; Angel Cuan, St. Lucie, 5; Rafael Montero, Binghamton, 5.
Saves: Jeff Walters, Binghamton, 12; Bret Mitchell, Savannah, 9; Beck Wheeler, Savannah, 5; T.J. Chism, St. Lucie, 4; Jack Leathersich, Binghamton, 3.
Strikeouts: Rafael Montero, Vegas, 67; Matt Bowman, St. Lucie, 59; Logan Verrett, Binghamton, 54; Zack Wheeler, Vegas, 53; Noah Syndergaard, St. Lucie, 52.
Short hops
• Omar Quintanilla, who could be called up to replace Ruben Tejada if the Mets shortstop continues to struggle, has produced stellar May numbers. Quintanilla is hitting .403 with one homer, nine RBIs and 11 walks in 23 games this month. One complication for a Quintanilla call-up: He is not on the 40-man roster.
• Left-hander Angel Cuan was named Florida State League Pitcher of the Week. Cuan, signed in 2007 out of Panama, has tossed 14 scoreless innings over his past two starts.
• Brandon Nimmo went 0-for-5 Tuesday with Savannah, in his first game since April 29. Nimmo, the organization's 2011 first-round pick, had dealt with a bruised hand and then a back issue. In a drought spanning the absence, Nimmo is now hitless in his last 25 at-bats. But because of a torrid start with the Gnats, Nimmo nonetheless is hitting .305.
• Zach Lutz has joined Andrew Brown on the Las Vegas DL with an oblique injury. Both are on the 40-man roster, limiting the healthy options the Mets have if they want to make a roster substitution.
• Savannah first baseman Jayce Boyd is hitting .354. That is ranked first in the South Atlantic League, narrowly ahead of teammate Kevin Plawecki (.346). Boyd, a Florida State product, has been limited to DH duty in 10 starts since May 15 because of a shoulder issue. The Mets are not expected to promote players, including Boyd and Plawecki, until the first half of the SAL season is completed.
• Pedro Feliciano remains battling sporadic food-poisoning symptoms. He is at the Mets' Port St. Lucie complex, participating in workouts as tolerable to preserve his arm strength.
• Francisco Pena, son of Yankees coach Tony Pena, is hitting .385 with four homers and 10 RBIs in eight games since a promotion to Las Vegas.
• Michael Fulmer, who has had a slow return from spring-training surgery to repair a torn meniscus, threw an inning in an extended spring training game Tuesday.