FIRST PITCH: Will Jeff Wilpon rue the day he expressed doubt to Mariano Rivera that the Mets would meet the Yankees in the World Series this October?
Well, let's not go that far.
Nonetheless, the Amazin's -- suddenly on a season-high four-game winning streak -- tonight will aim for only the second sweep of a season series involving the Mets and Yankees since the matchup began in 1997.
In 2003, the Yankees won all six games from the Mets.
The Mets already have clinched only their third-ever season series win against the Yankees. They also won in 2004 (4-2) and '08 (4-2).
Dillon Gee (2-6, 6.34 ERA) opposes left-hander Vidal Nuno (1-1, 1.93) in the 7:05 p.m. finale in the Bronx.
With Zack Wheeler's promotion looming in mid-June, and given another credible start by Jeremy Hefner last night, the pressure now shifts to Gee to prove he does not merit being displaced from the rotation.
After tonight's game, the Mets fly to Miami. Two of the Mets' next three series are against the Marlins, so perhaps the Mets can remain relevant and keep things interesting for a while.
Thursday's news reports:
• Ike Davis and Ruben Tejada received ultimatums from Mets brass after Tuesday's game at Citi Field to shape up or ship out to Triple-A. Both then contributed with first-inning singles Wednesday at Yankee Stadium.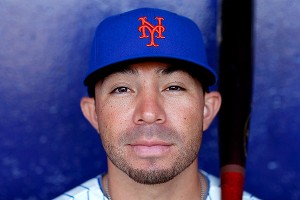 Chris Trotman/Getty Images
Shortstop Omar Quintanilla is expected to join the Mets on Thursday.
Davis, having altered his stance this week, went 2-for-5 with two RBIs, again staving off a demotion. Tejada, on the other hand, very likely may be headed to the disabled list and not Las Vegas. He injured his right quadriceps in the ninth inning pursuing a foul popup and departed with one out remaining.
Tejada -- who had a shaky play in the field in the sixth -- spent seven weeks on the DL last season with a strained right quadriceps. And he probably lands on the DL again now.
The Mets signaled their inclination to promote Omar Quintanilla from Triple-A by pulling the 31-year-old shortstop from Las Vegas' game after three innings. Quintanilla had been bypassed for an Opening Day roster spot when the Mets elected to carry an extra outfielder, Kirk Nieuwenhuis, rather than a backup shortstop.
Quintanilla is not on the 40-man roster, so the Mets will need to make a maneuver.
The short-term fix may be as simple as transferring Frank Francisco to the 60-day DL, where he would not count against the 40-man roster. That essentially would put the roster at 42 players, since Jenrry Mejia already is on the 60-day DL and not counted right now. Two players ultimately would need to lose spots in the relatively near future.
On Davis and Tejada, columnist Bill Madden writes in the Daily News:
In Tejada's case, it's as if the shortstop has had a sense of entitlement, going back to spring training when he reported to camp a tad overweight and not in the best of game shape. And when he inexcusably got himself picked off at second base Tuesday night at Citi Field, and Collins subsequently got himself thrown out of the game for arguing in defense of what he knew was indefensible, well, it's understandable why the manager wasn't in a celebratory mood.
Tejada has underperformed at bat and in the field all season long, a lot of the time with his head somewhere else, and Collins has clearly had enough.
Same thing with Davis, although not because of any complacency on Ike's part.
Writes columnist David Lennon in Newsday:
The moral of the story is that accountability is good, accountability works -- and it seemed to be in short supply in recent years with the Mets. If it were up to us, Tejada and Davis would have been airmailed to Vegas a week ago. But the Mets' more patient approach -- actually, let's call it more lenient -- appeared to pay off for at least one night.
Still, Tejada wound up leaving the game because of a right quad injury, and a Mets official said he'd be "shocked" if Tejada isn't placed on the DL Thursday.
Read more in the Star-Ledger, Times, Newsday, Journal, Post and Record.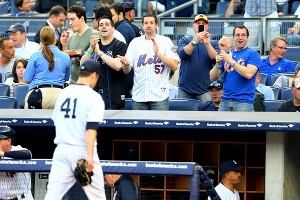 Al Bello/Getty Images
Mets fans taunt David Phelps after a quick hook in the Bronx.
• The Mets provided five runs for Hefner before he took the mound and eventually beat the Yankees, 9-4, Wednesday. The Mets had been 0-9 in Hefner's starts this season and had been 0-10 in the game after Matt Harvey pitched. The team's victory allowed Hefner to avoid joining Anthony Young in ignominy. Young remains the only pitcher in franchise history whose first 10 starts of a season ended in Mets defeats -- back in 1993.
Yankees right-hander David Phelps, who retired only one batter, had the second shortest start in Subway Series history, only longer than a 2007 outing by Darrell Rasner, who departed without an out recorded after being struck in the hand with an Endy Chavez comebacker.
Wednesday's game drew a paid crowd of 43,681 to Yankee Stadium (86.9 percent of capacity).
Read game recaps in the Post, Daily News, Times, Newsday, Star-Ledger, Record, Journal and MLB.com.
• Read more on Hefner in the Times and Star-Ledger.
• Jay Schreiber in the Times laments the Mets' brain trust's recent history of comments demeaning the team.
• Jeurys Familia allowed one run in one inning and suffered the loss Wednesday afternoon in his second rehab appearance with Class A St. Lucie.
• Carlos Torres limited Reno to one run on three hits and a walk in 6 2/3 innings and Josh Satin went 4-for-5 with four RBIs to lift his season average to .316 as Las Vegas won, 7-1.
Josh Rodriguez extended his hitting streak to 15 games, but Altoona beat Binghamton, 8-4.
Alex Panteliodis allowed three runs (none earned) in five innings and Dustin Lawley homered and drove in three runs as St. Lucie produced a 7-4 win against Jupiter. In the resumption of a suspended game, Jupiter won, 4-1, in the afternoon.
Greenville beat Savannah, 5-1.
• Tennessee playwright W.M. Akers pens a fun ode to Mike Baxter at theclassical.org.
• From the bloggers … Faith and Fear appreciates Rivera in a Mets context. … John Delcos at Mets Report suggests the current stretch will keep fans interested, but let's not go overboard.
BIRTHDAYS: Wheeler, who next pitches for Las Vegas on Saturday, turns 23 today.
TWEET OF THE DAY:
Who are these #Mets and what did they do with the real ones?

— Mr. Met (@PhonyMrMet) May 30, 2013
YOU'RE UP: Can the Mets (21-29) see .500 -- or beyond -- again this season?