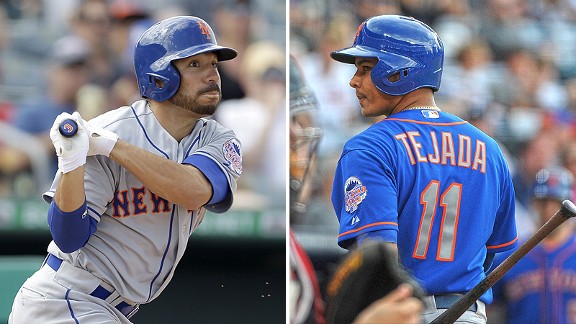 Associated Press
Omar Quintanilla replaces Ruben Tejada, who landed on the DL.
Ruben Tejada officially has landed on the disabled list with a right quadriceps strain. Omar Quintanilla has been promoted from Triple-A Las Vegas and will be active for Thursday's Subway Series finale in the Bronx.
Tejada suffered the injury pursuing a foul ball during the ninth inning of Wednesday's game at Yankee Stadium. He departed with one out remaining.
He spent seven weeks on the DL last season with a strained right quadriceps.
Tejada, along with first baseman Ike Davis, had been summoned into manager Terry Collins' office Tuesday and informed demotions were imminent if they did not improve their play. So while the injury is not welcome news for the organization, it does provide a vehicle to ultimately get Tejada to the minor leagues for rehab games without the stigma of a demotion.
Tejada is hitting .209 with 10 RBIs in 187 at-bats this season and has shown fielding lapses.
Quintanilla is hitting .413 with one homer, 10 RBIs and 10 walks this month with Las Vegas.
The lefty-hitting Quintanilla primarily has played in a platoon at shortstop in Triple-A. Collins similarly could employ a platoon with righty-hitting Justin Turner with the Mets.
The Mets shifted Frank Francisco to the 60-day DL to open a 40-man roster spot for Quintanilla.