Terry Collins indicated Ruben Tejada is not automatically the shortstop when he is ready to return from the disabled list, and that Omar Quintanilla could keep the job if he proves he merits the role during Tejada's absence.
Tejada, who landed on the disabled list with a strained right quadriceps, received a a cortisone injection Thursday at the Hospital for Special Surgery. The muscle was tender to the touch.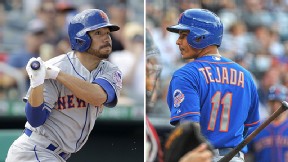 Associated Press
Omar Quintanilla could permanently unseat Ruben Tejada with a solid showing in Tejada's absence.
"When he comes back, only the situation will dictate what his status is going to be here," Collins said. "If Omar Quintanilla is playing tremendous, if he's doing what we know he can do, Ruben is going to have to make sure he's ready to play. But seeing what happened last year at this time when he got hurt -- when he pulled the quad it was six weeks -- if it's six weeks this time, a lot of things can happen in the next six weeks. So it's tough for me to say where it's at."
After taking a red-eye from Las Vegas, Quintanilla landed in New York at 9 a.m. He will be the regular shortstop, Collins indicated, with the possible exception of when the Mets face a particularly tough left-hander, in which case Justin Turner might get a start. Collins said Quintanilla may lead off against right-handed pitching.
"If he gives us some offense, that's a plus," Collins said. "But we know one thing: He's going to catch it and he's going to make the right plays and he's going to throw people out and keep us in games defensively."
Collins acknowledged he would like Tejada to arrive in better shape next season. The manager noted Tejada intended to work out with Jose Reyes for a long stretch last winter, but that was condensed to only 10 days on the eve of spring training because Hurricane Sandy made it difficult for Tejada to locate alternate housing on Long Island.
"Certainly that will be a major focus next winter -- to make sure we get him somebody, or get him some place, where we can really start to get him into shape for spring training," Collins said.