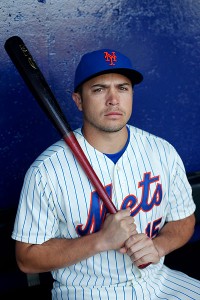 Chris Trotman/Getty Images
Travis d'Arnaud is due to be examined Monday.
Catching prospect Travis d'Arnaud, who suffered a fractured first metatarsal in his left foot on April 17, is due to be examined Monday at the Hospital for Special Surgery in Manhattan.
The goal of the visit is to for d'Arnaud to be cleared to shed a protective boot and begin weight-bearing activity.
D'Arnaud had been examined May 17 by team doctor Struan Coleman, four weeks after suffering the injury getting struck with a foul ball while catching with Triple-A Las Vegas. The determination was made at that time that d'Arnaud would require an additional two weeks in the protective boot.
At this point, d'Arnaud may be little more than a September call-up. It would probably take him a month or more to get into game-playing shape once he is cleared for activity. And he still needs minor league seasoning. Because of a knee injury last year and this season's broken foot, d'Arnaud has been limited to 79 total games at the Triple-A level -- just more than half a season.