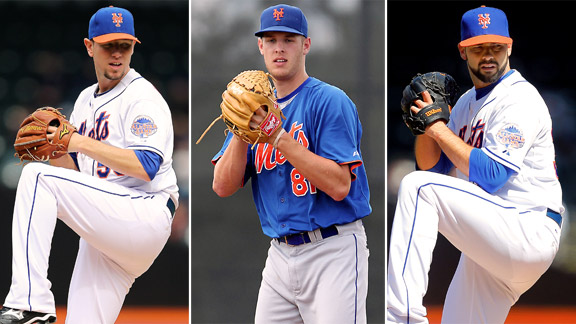 Getty Images/Associated Press
Indications are Jeremy Hefner will remain in the rotation once Zack Wheeler is promoted and Dillon Gee would be headed for a relief role.
Terry Collins strongly suggested Dillon Gee, who starts the Subway Series finale, may be reassigned to the bullpen when Zack Wheeler eventually is promoted from Triple-A Las Vegas.
Collins said Gee has the pedigree conducive to a bullpen role. During his professional career, Gee appeared in three games in relief in the majors in 2011 as well as three games with Brooklyn in 2007.
Obviously, there has been a disparity in performance between Gee and Jeremy Hefner anyway, making the decision at this point fairly straightforward about who to bounce from the rotation.
"Right now, he's one of our five guys in the rotation," Collins said about Gee. "You know what? If he doesn't pitch good, we've got to find somebody to take that spot. I think any time you go out there, if you can't get people out, we've got to find people to replace you. ... I know Dillon Gee, if we bring anybody up that's going to be a starting pitcher, and we have to take somebody out of the rotation and maybe move them to the bullpen, he would be that guy, because I know he can pitch out of the bullpen."