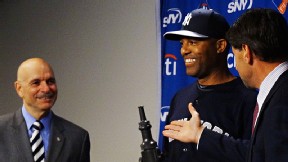 Adam Rubin
Jeff Wilpon and NYC fire commissioner Salvatore Cassano presented Mariano Rivera with gifts pregame Tuesday at Citi Field.
Did Jeff Wilpon light a fire under the Mets by expressing doubt the Mets would be in the World Series?
Terry Collins tactfully took on that question before Thursday's series finale.
Wilpon had said at Tuesday afternoon's gift presentation to Mariano Rivera: "I wish we could see you in the World Series, but I'm not sure that's going to happen this year."
Said Collins about motivation: "You'd have to take a poll in there how many guys read that stuff. If that motivated them, we'll be blasting them again tonight."