FIRST PITCH: Give him the extension already. And how about a key to the city for Terry Collins, too?
Collins acknowledged after presiding over a Subway Series sweep that the Mets recently had started to lose hope. The despair left him to try the last thing in his managerial playbook -- the reprimand of job loss to his players -- to try to turn things around.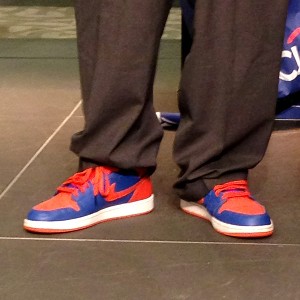 Adam Rubin
Mets PR man Jay Horwitz put on orange and blue sneakers Sunday. Five games -- and five wins -- later, he keeps wearing them to work each day.
Now, the Mets are on a five-game winning streak, albeit still seven games under .500 and nine games behind the division-leading Atlanta Braves.
But maybe, just maybe, the Mets (22-29) can make things interesting. Six of their next nine games come against the woeful, Giancarlo Stanton-less Miami Marlins.
Tonight's 7:10 series opener in Miami features winless Shaun Marcum (0-5, 5.77 ERA) against call-up Jacob Turner (3-4, 4.47 ERA at Triple-A New Orleans).
Friday's news reports:
• Dillon Gee, Scott Rice and Bobby Parnell combined to retire the final 20 batters and the Mets completed their first-ever sweep of a season series from the Yankees with a 3-1 win Thursday in the Bronx. Gee, threatened with losing his rotation spot by Collins, responded with a career-high 12 strikeouts in a dominating 88-pitch performance that carried him into the eighth inning.
Writes columnist David Lennon in Newsday:
It was a good [Yankees] run, and now it's over after the Mets exposed their Bronx buddies this week in every way imaginable, capped by Thursday night's 3-1 win at the Stadium. They outpitched the Yankees, outhit them and, as an added bonus, even beat Mariano Rivera before he could register an out in Tuesday night's dramatic finish.
Not bad for a Mets team that was 11 games below .500 when this home-and-home Subway Series began Monday. Back then, Terry Collins would have signed up for a split in a heartbeat. Even Jeff Wilpon, after winning the Citi Field opener, pulled a Joe Biden and mistakenly conceded the rest of the season in a pregame fete for Rivera.
It was an embarrassing slip. But by Thursday night, with a sweep complete, it was the Mets who enjoyed the last laugh.
Read game recaps in the Post, Daily News, Newsday, Star-Ledger, Record, Times, Journal and MLB.com.
• Read more on Gee in the Star-Ledger, Newsday, Daily News and Record.
• Ruben Tejada avoided a demotion, but ended up landing on the disabled list with a right quadriceps strain. Collins said there is no guarantee Tejada will regain the shortstop job when he is healthy. It will depend largely on how promoted Omar Quintanilla performs in the interim. Read more in the Times, Journal, Star-Ledger, Daily News, Post, Newsday and Record.
• Jonathon Niese will miss Saturday's start with shoulder tendinitis. He was unable to throw his normal between-starts bullpen session Wednesday. Niese, who was examined Thursday morning by team doctors, expects to only skip one start. Collin McHugh will take Niese's turn against the Marlins. Read more in the Daily News, Star-Ledger, Post and Newsday.
Collins said Zack Wheeler was not a consideration for Niese's turn. Left unsaid is that the Mets are waiting until after the Super 2 deadline to promote Wheeler. The June 14-16 home series against the Chicago Cubs may be a realistic estimate for Wheeler's major league debut.
On Wheeler, Las Vegas manager Wally Backman told Newsday: "This kid's ready. He's ready to pitch in the big leagues. I personally believe that. His stuff definitely plays. It's a matter of when the organization feels he's ready to go there. … Once that blister went away, we've really seen what Zack is really all about. He threw four starts in a row where it looked like a big-league guy throwing to high school kids at times. …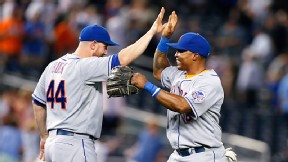 Kathy Willens/Associated Press
Marlon Byrd and John Buck celebrate Thursday's Subway Series win.
"I can remember Matt [Harvey] last year coming into the office when he threw two or three great starts and saying, 'When the [heck] am I going to the big leagues?' I said, 'Hey, just keep putting up zeros and they've gotta make a decision.' It was an everyday thing with him. Zack's a little more laid back than Matt, but the competitiveness is definitely there."
• Robinson Cano and Jordany Valdespin hail from the same town in the Dominican Republic.
"I would like to see him play every day," Cano told Anthony McCarron in the Daily News about Valdespin. "I guarantee he'd do a good job. He loves this game. He'd have good numbers. He's got power. He's a contact hitter. He swings hard, but he might learn. The more you play, the more you learn what situations to use a long swing or swing for a homer or go the other way. It's easier when you play every day. …
"Sometimes you've got to calm down a little bit. But that's the way he plays the game. [Nick] Swisher, too, plays the same way, with a lot of energy, always laughing. When you're on the other side, you might say, 'Who does this guy [Swisher] think he is?' But when you're with him on the same team, you know what kind of guy he is -- one of the great teammates you could ever have."
• Reliever Scott Atchison, on the DL, experienced renewed numbness in fingers on his pitching hand. He will seek a second opinion about whether surgery is required to remove a bone spur in his right elbow.
• Catching prospect Travis d'Arnaud is due to be reexamined Monday in Manhattan, hoping to get permission to shed a protective boot from his fractured left foot and begin weight-bearing activity.
• Neil Best in Newsday does a day-in-the-life story on SNY field reporter Kevin Burkhardt.
• A dating web site is fond of David Wright, writes the Daily News.
• Mike Kerwick in the Record gets reaction to Jeff Wilpon's World Series-being-unrealistic suggestion.
• Marlon Byrd has homered in consecutive games. Read more in the Post.
• Brandon Hicks, Josh Satin and Brian Bixler homered in Las Vegas' 11-1 win against Reno. Josh Rodriguez extended his hitting streak to 16 games and drove in the tiebreaking run as Binghamton beat Altoona, 6-4. Read the full minor league recap here.
• From the bloggers … Faith and Fear discovers sitting through four consecutive games versus the Yankees is nothing like pulling teeth. … John Delcos at Mets Report notes the Tejada decision resolved itself, which is often the case.
BIRTHDAYS: Outfielder Joe Orsulak turns 51.
TWEET OF THE DAY:
I'm comin for ya!!!!! twitter.com/MattHarvey33/s…

— Matt Harvey (@MattHarvey33) May 27, 2013
YOU'RE UP: Should the Mets reverse course and give Terry Collins an extension now, rather than wait until the end of the season to make an evaluation?