MIAMI -- Terry Collins said the Mets' 5-1 loss to the Miami Marlins on Friday night, which snapped a five-game winning streak, had nothing to do with a post-Yankees letdown, or even fatigue.
"We won five in a row," Collins said. "OK, we lost one. Let's go win five more in a row. That's how you get back in it. You're not going to win 18 straight. You've got to take your streaks. And when you get beat, start another one."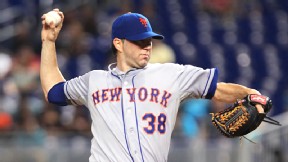 Marc Serota/Getty Images
Shaun Marcum dropped to 0-6.
The Mets mustered one run on seven hits as the bats remained mostly quiet, with the exception of a five-run first inning against the Yankees on Wednesday. In the other games during the winning streak, the Mets scored 4, 2, 2 and 3 runs and leaned heavily on quality starting pitching.
"I don't think there's any question. That's still an issue," Collins said about the bats. "We've had some great games. We've pitched some good games. We've gotten some big hits, which has allowed us to win some games lately. You look at Marlon [Byrd]'s home run yesterday, the rally against Mariano [Rivera] with some singles or a double down the left-field line. There was some big hits at the right time. And tonight we didn't get any big hits. And we didn't mount much anyway."
As for Shaun Marcum, who took a scoreless effort into the seventh before allowing four runs, Collins said: "I thought he pitched great. Two of the singles they hit them off the end of the bat and they just dropped in out there. He certainly pitched a very, very good game. We didn't give him anything to work with, but I thought Shaun did a nice job."
Said Marcum: "Frustrating. I think every pitcher will tell you it's more frustrating making quality pitches and have bloopers fall in. I'd rather, if I'm going to lose, make a mistake pitch and have it get hit over the fence than make well-located pitches and have them fall in. It's part of the game and we'll move on."