MIAMI -- Center-field prospect Matt den Dekker, who had highlight-reel grabs throughout spring training, still has a ways to go in his comeback from a fractured right wrist.
Terry Collins said den Dekker's wrist suffered disuse atrophy while in a cast for a prolonged period. Den Dekker currently is in Port St. Lucie, Fla., swinging with only his left hand. The hope is den Dekker can try taking regular swings beginning next week.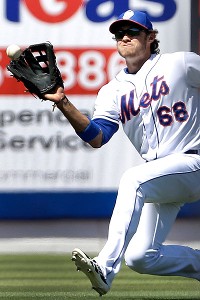 Jeff Roberson/Associated Press
Matt den Dekker is only swinging with one hand as he recovers from a fractured wrist.
Had the lefty-hitting, lefty-throwing den Dekker not suffered the fracture in an attempted catch in a March 24 Grapefruit League game, the Mets may not have needed to acquire Rick Ankiel.
Ankiel is hitting .226 with two homers, seven RBIs and 18 strikeouts in 53 at-bats since joining the Mets. He is 2-for-22 with 10 Ks in his past seven games.
The Mets had resolved to platoon Ankiel and Juan Lagares. But with the team exclusively facing right-handed pitching this series and in Washington, Collins said he may bend and start Lagares against a righty to get him playing time.
Collins candidly said he does not want to have Lagares idling at the major league level, but added there are no viable options in Triple-A right now.
"Who do you bring up?" Collins rhetorically asked.
Kirk Nieuwenhuis, who bats lefty anyway, is hitting .231 with seven homers in 117 at-bats with Las Vegas. And Collin Cowgill has struggled, although he did lift his average to .299 through 97 at-bats with a 4-for-4 performance last night. Cowgill has raised his average 64 points in the past four games with consecutive multi-hit games.