MIAMI
FIRST PITCH: It's finally Matt Harvey Day again as the Mets look to avoid getting swept against the Miami Marlins.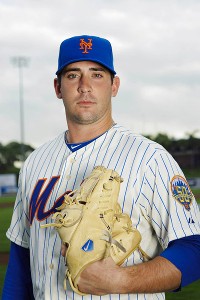 Steve Mitchell/USA TODAY Sports
Matt Harvey Day has arrived.
Harvey (5-0, 1.85 ERA) leads the majors in opponent batting average (.172) and the National League in 10-strikeout games (three). He opposes right-hander Kevin Slowey (1-5, 3,59) at 1:10 p.m. at Marlins Park.
Sunday's news reports:
• Columnist Bill Madden in the Daily News suggests it may NOT be wise for the Mets to spend heavily in free agency next offseason. Writes Madden:
Disillusioned fans are demanding they live up to that promise and spend, spend, spend. But on what?
For one thing, the free-agent market, which more and more is proving to be the wrong way to go, is very problematic next year. Yes, Shin-Soo Choo, who, with his fifth-best OPS (.973) entering Friday, would seem like the perfect fit to solve a big part of the Mets' outfield problems. And, yes, even Hunter Pence, who's off to a typical season in which he projects to hit .285-.290 with 25 homers, 85 RBI and an OPS of a little over .800, would be a nice fit as well. But neither one of these guys is a franchise-type player, although they will expect to be paid as such as free agents.
Choo, who will be 31 next year, is represented by the Scott (Avenging Agent) Boras, and, as such, is going to be seeking a six- or seven-year deal at $20 million or more per. Same thing for Pence, who is 30 next year. Jacoby Ellsbury, another Boras client, is also going to be out there and is having only a so-so season. He will be 30 next year and hasn't been the same since dislocating his shoulder last season, but that won't stop Boras from seeking a similar seven-year, $140 million-$150 million deal.
It is a proven fact that most free-agent contracts of five years or more to players 30 or over are bad investments.
• Collin McHugh allowed four runs in four-plus innings and the Mets' bats had a quiet day against Jose Fernandez as the Marlins beat the Mets, 8-1, Saturday.
"This is what we have to work with, so we are going to have to figure it out," David Wright told reporters postgame, according to the Daily News. "There is no magic potion, there's no offensive savior that is going to come and get us out of this thing. It's up to us to work our way out of it.
"It's up to me. I got to go up there and start being better and maybe taking some walks. I am swinging at some pitches I normally wouldn't swing at and getting myself out a little bit. I keep preaching that the offense is kind of run on getting on base and taking your walks and I am not doing that right now."
Read game recaps in the Post, Daily News, Newsday, Star-Ledger, Record, Times and MLB.com.
• Jonathon Niese should retake his rotation spot next Friday. Read more in the Star-Ledger.
• Zack Wheeler limited Fresno to one run on three hits and a walk in six innings and Kirk Nieuwenhuis homered as Las Vegas won, 2-1. Binghamton's Rafael Montero tossed seven scoreless innings and Savannah's Luis Cessa tossed 7 2/3 scoreless innings in shutout victories. Read the full minor league recap here.
Read more on Wheeler in the Post.
• Steve Serby in the Post has a Q&A with Daniel Murphy. Among the exchanges:
Q: What would it mean to you to play in the All-Star Game at Citi Field this summer?
A: That would be unbelievable. That would be so much fun. It would be such a humbling experience. But I do understand that is a long way away.
• Harvey tells Maric Carig in Newsday the opponent -- whether the Yankees in a buzz-filled stadium or Marlins in an empty ballpark -- is immaterial. "I play a game within the game," Harvey said. "Each hitter is a game. I don't want to get beat by any hitter. That's how I take it.''
Ken Davidoff in the Post offers some statistics to underscore Harvey's torrid start.
Writes columnist Kevin Kernan in the Post:
Harvey was a freshman and his dad was his coach at Fitch High School in Groton, Conn., when they were playing senior-laden powerhouse Norwich Free Academy. Harvey had the freshest arm on the team so he was named to pitch that day. Before the game, his dad asked: "You OK with this?''
The freshman looked his father in the eye and said, "Don't ever ask that question again.''
Harvey pitched a complete-game victory that day and hasn't stopped shutting down opponents since.
• Tim Byrdak pitched in an extended spring training game for the first time since undergoing shoulder surgery in August, while Matt den Dekker still is working back from a broken wrist suffered in spring training.
• Cody Derespina in Newsday offers his top-10 Mets prospects.
• From the bloggers … Faith and Fear in Flushing visits Tomorrowland, where Matt Harvey is only a day away.
BIRTHDAYS: Former reliever Mike Stanton turns 46. … Infielder Kelvin Chapman is 57. … Kurt Abbott is 44.
TWEET OF THE DAY:
At least Matt Harvey is pitching tomorrow? #Mets

— Jessica DeMattia (@jessicabrooke5) June 2, 2013
YOU'RE UP: Do the Mets have any choice but to overpay for free agents next offseason?