WASHINGTON -- David Wright, who was overtaken by Pablo Sandoval late in the 2012 All-Star Game voting process, this time trails the Panda at the get-go.
Sandoval has a 127,176-vote lead over Wright in the first balloting released by MLB for the July 16 game at Citi Field.
The only other Mets position player appearing among the leading vote-getters at his position is John Buck, who ranks third at catcher.
First base
Joey Votto, Reds, 1,044,742
Brandon Belt, Giants, 513,371
Paul Goldschmidt, Diamondbacks, 473,513
Adrian Gonzalez, Dodgers, 464,845
Freddie Freeman, Braves, 438,868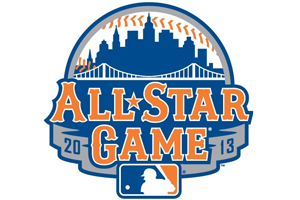 Courtesy of New York Mets
Second base
Brandon Phillips, Reds, 1,019,240
Marco Scutaro, Giants, 801,754
Chase Utley, Phillies, 524,219
Matt Carpenter, Cardinals, 439,239
Dan Uggla, Braves, 384,462
Third base
Sandoval, Giants, 1,094,475
Wright, Mets, 967,299
Chris Johnson, Braves, 386,811
David Freese, Cardinals, 375,428
Todd Frazier, Reds, 343,201
Shortstop
Troy Tulowitzki, Rockies, 1,025,844
Brandon Crawford, Giants, 668,140
Jean Segura, Brewers, 554,403
Andrelton Simmons, Braves, 372,844
Pete Kozma, Cardinals, 311,852
Catcher
Buster Posey, Giants, 1,275,956
Yadier Molina, Cardinals, 938,911
Buck, Mets, 523,843
Jonathan Lucroy, Brewers, 313,574
Brian McCann, Braves, 285,600
Outfield
Justin Upton, Braves, 1,184,249
Bryce Harper, Nationals, 1,182,532
Ryan Braun, Brewers, 945,665
Carlos Beltran, Cardinals, 847,924
Shin-Soo Choo, Reds, 734,755
Hunter Pence, Giants, 624,972
Andrew McCutchen, Pirates, 576,201
Angel Pagan, Giants, 572,400
Matt Holliday, Cardinals, 491,629
Carlos Gonzalez, Rockies, 482,719
Gregor Blanco, Giants, 475,662
Carlos Gomez, Brewers, 472,272
B.J. Upton, Braves, 420,104
Matt Kemp, Dodgers, 389,372
Jay Bruce, Reds, 374,852