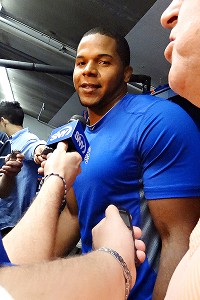 Adam Rubin
Cesar Puello reportedly may face an MLB suspension.
WASHINGTON -- Major League Baseball will move to suspend roughly 20 players linked to the Miami-area clinic ensnared in a performance-enhancing drug scandal after gaining cooperation from Biogenesis of America founder Tony Bosch, "Outside the Lines" reports.
While Alex Rodriguez and Ryan Braun are big names identified in the report, the Mets' Double-A outfielder Cesar Puello also is a suspension candidate, the report states.
Puello, 22, entered today's play hitting .302 with eight homers and 33 RBIs in 169 at-bats with the B-Mets.
When Puello first was linked to Biogenesis by ESPN in February, he said without taking questions: "All the questions [should] go to the Players' Association. I'm here for play[ing] baseball. And we can talk about baseball. I've got to go work."
Read the news story here.