WASHINGTON
FIRST PITCH: Jeremy Hefner or Dillon Gee? Whoever loses his rotation spot when Zack Wheeler ultimately arrives, Terry Collins again cautioned Tuesday the top prospect will not solve the Mets' woes.
"He's not going to be the savior," Collins said. "There are a lot of pieces that have to work. One guy is not going to turn this around, of course. It takes 25.
"Everybody is excited because he's a prospect. You look down the road with that arm and that stuff, he can be a good pitcher for a long time. But there are a lot of adjustments that have to be made by him, as Matt [Harvey] made them. That's why I had them locker next to each other in spring training. Maybe Matt could give him some of his advice -- some of the stuff he went through."
The Mets try to get on track at 7:05 tonight when Gee (3-6, 5.68 ERA) opposes right-hander Dan Haren (4-6, 5.09).
Before the game, the Mets will continue their annual tradition of visiting Walter Reed National Military Medical Center.
Thursday, the team hosts a blood drive at the Caesars Club at Citi Field from 10 a.m. to 5 p.m. Donors receive two tickets to a Mets game.
Wednesday's news reports:
• Bobby Parnell's streak of seven straight successful save conversions ended with a 3-2 loss to the Nationals on Tuesday night, spoiling a solid outing from Hefner.
Read game recaps in the Post, Daily News, Newsday, Star-Ledger, Record and MLB.com.
• Read more on Hefner in the Post.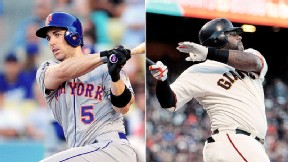 US Presswire
David Wright is second among NL third basemen in early All-Star voting, again trailing Pablo Sandoval.
• The Mets had a weak showing in the first balloting released for the July 16 All-Star Game at Citi Field. David Wright trails San Francisco's Pablo Sandoval by 127,176 votes at third base. John Buck ranks a distant third at catcher, trailing overall NL vote leader Buster Posey as well as Yadier Molina. Read more in the Daily News.
• Double-A Binghamton outfielder Cesar Puello could receive a hefty suspension now that Biogensis founder Tony Bosch has agreed to assist MLB's performance-enhancing-drug investigation, Outside the Lines reports.
• Jonathon Niese will test his shoulder today by throwing a bullpen session at Nationals Park. Niese, who missed his last start with tendinitis, is aiming to reenter the rotation Saturday against the Miami Marlins at Citi Field.
• Al Leiter tells ESPNNewYork.com's Andrew Marchand he would be interested in filling the U.S. Senate seat vacated with the death of Frank Lautenberg. New Jersey Gov. Chris Christie will make a temporary appointment until a special election is held Oct. 19.
• Jeurys Familia will undergo surgery today in Manhattan to remove a bone spur and loose bodies from his right elbow. Read more in the Post, Star-Ledger and Newsday.
• Kirk Nieuwenhuis has eight homers in his past 14 Triple-A games, and Collins said the center fielder is back on the radar for a promotion.
• Nieuwenhuis' two-homer game Tuesday lifted Las Vegas to a 6-5 win at Fresno. Erik Goeddel tossed seven scoreless innings in Binghamton's 8-0 win against Trenton, the Yankees' Double-A affiliate. Read the full minor league recap here.
• Juan Lagares is active but not playing much, write Andrew Keh in the Times and Jared Diamond in the Journal. Arguably, that is a mistake by the organization, since the Mets might as well play youth and get them ready for when the team one day is again contending. At least there should be an opportunity for Lagares in the series finale. Right-hander Stephen Strasburg won't face the Mets on Thursday because of a lat strain, but he is not landing on the DL. Left-hander Gio Gonzalez instead pitches on regular rest against the Mets.
• From the bloggers … Rising Apple implores Mets fans to vote responsibly (unlike Giants fans) and send the deserving Wright and Daniel Murphy to the All-Star Game. … Wright personifies the Mets' struggles, writes John Delcos at Mets Report.
BIRTHDAYS: Left-hander Paul Siebert, who appeared in relief for 52 games with the Mets in the '70s, was born on this date in 1953.
TWEET OF THE DAY:
@AdamRubinESPN Ill give the blood if the #Mets take my tickets off my hands!

— Ralph (@NYISLES22) June 5, 2013
YOU'RE UP: Should the Mets promote Kirk Nieuwenhuis?