WASHINGTON -- Marlon Byrd homered twice, David Wright also went deep and Anthony Recker finished with a career-high three RBIs as the New York Mets snapped a four-game losing streak with a 10-1 win against the Washington Nationals on Wednesday night.
Every Mets hitter, including starting pitcher Dillon Gee, had a hit. The 15 hits matched a season high.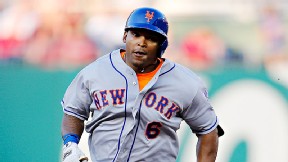 Rob Carr/Getty Images
Marlon Byrd had two homers and three RBIs on Wednesday.
It marked the third time this season the Mets reached double digits in runs, joining an 11-2 win on Opening Day against the San Diego Padres and a 16-5 win at the Minnesota Twins on April 12.
Wright had been two for 23 on the road trip before his two-run shot in the third inning against right-hander Dan Haren. Byrd had a solo homer two batters later, his second long ball of the game, as the Mets built a 5-1 lead. Byrd produced the sixth multihomer game of his career.
Haren (4-7) lasted only four innings.
Recker's two-run single in the fifth against reliever Craig Stammen pushed the Mets' lead to six runs. He added an RBI double in the seventh. Terry Collins chose to pair Recker with Gee in part because of their success as a battery last week at Yankee Stadium.
O-M-Gee: Coming off a strong outing against the Yankees and looking to further demonstrate he merits staying in the rotation once Zack Wheeler is promoted, Gee had plenty of baserunners. He mostly wriggled free.
Gee (4-6) twice struck out Jayson Werth in the opening four innings, each time stranding two Nats on base. He also stranded Kurt Suzuki at second base in the sixth by striking out pinch hitter Tyler Moore.
Gee's final line: 7 IP, 9 H, 1 R, 1 ER, 1 BB, 7 K.
Three cheers: Rookie Juan Lagares had a career-high three hits.
What's next: Shaun Marcum (0-6, 5.71 ERA), still in search of his first Mets win, opposes left-hander Gio Gonzalez (3-3, 3.64 ERA) in Thursday's 7:05 p.m. rubber game at Nationals Park.