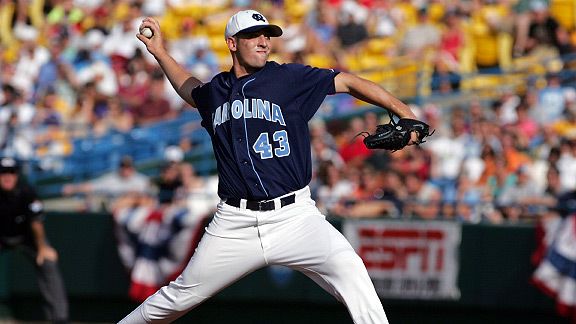 Julie Scheidegger/US Presswire
Back in 2010, the Mets selected Matt Harvey with the seventh overall pick.WASHINGTON
FIRST PITCH: Gavin Cecchini won't be the new kid on the block much longer.
Paul DePodesta and crew begin drafting the 2013 class tonight. The Mets' first pick is 11th overall, which you probably recall because that was the first pick not protected last offseason -- meaning the Mets would have forfeited it to sign Michael Bourn.
ESPN's Keith Law projects the Mets will select California high school first baseman Dominic Smith.
Here's a look at the Mets' top picks of the past decade:
2012, Cecchini, 12th overall
2011, Brandon Nimmo, 13th
2010, Matt Harvey, seventh
2009, Steven Matz, 72nd
2008, Ike Davis, 18th
2007, Eddie Kunz, 42nd
2006, Kevin Mulvey, 62nd
2005, Mike Pelfrey, ninth
2004, Philip Humber, third
2003, Lastings Milledge, 12th
Under the previous regime, the Mets made a habit of forfeiting first-round picks in order to sign Type A free agents. That was the case in 2009 (for Francisco Rodriguez), 2007 (for Moises Alou) and 2006 (for Billy Wagner). The Mets later essentially sold two first-round picks to the Red Sox when they traded Wagner to Boston as a rental.
Also tonight, Shaun Marcum (0-6, 5.71 ERA) searches for his first Mets win when he opposes left-hander Gio Gonzalez (3-3, 3.64) at Nationals Park.
Thursday's news reports:
• Jeff Wilpon visited Double-A Binghamton. He told the Press & Sun-Bulletin:
"There's a plan. You can't change the plan every year. OK? Sandy [Alderson], it's taken him two or three years to get the plan into effect, and we have to wait and see it out.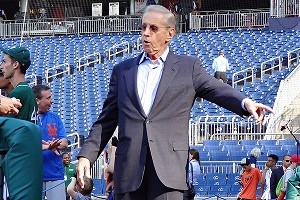 Adam Rubin
Fred Wilpon was in D.C. Wednesday with the Mets.
"You can't just say it's not going as fast as we want -- we're six months behind, two months behind, whatever it might be. You've got to let the plan go all the way down the line. If you're going to buy into something, you got to buy into it. You can't change midstream, because if you're constantly changing, there's no chance you're going to succeed. …
"I think we're definitely happy with the plan and the direction we're going. Is it happening as fast as anybody wants? No.
"You know, we're fans. I'm a fan. I'm here to see good baseball. I want to see good baseball in New York. I want to see it up and down the organization. Sometimes it happens quicker, sometimes it doesn't."
• Marlon Byrd homered twice, David Wright also went deep and Anthony Recker drove in three as the Mets enjoyed a rare laugher and snapped a four-game losing streak with a 10-1 win at D.C. Dillon Gee went seven innings, allowing one run, despite dealing with baserunners all night. It was Byrd's sixth career multi-homer game, and first since June 9, 2010.
Read game recaps in the Post, Daily News, Newsday, Star-Ledger, Record and MLB.com.
• Jon Heyman at CBSSports.com and Ken Davidoff in the Post review how the Mets landed Matt Harvey in the 2010 draft.
• Jonathon Niese threw a 39-pitch bullpen session Wednesday at Nationals Park and pronounced himself fit to face the Miami Marlins on Saturday at Citi Field after missing one turn in the rotation. Read more in the Post, Daily News, Newsday, Journal and Record.
• SNY analyst Ron Darling has signed a long-term extension with TBS to continue his weekend and postseason work analyzing national games. "He has established himself as one of the preeminent baseball analysts in the game today and we're excited he'll continue to be an integral part of our MLB regular season and postseason coverage on TBS for many years to come," said David Levy, president of TBS sales, distribution and sports.
• Andrew Keh in the Times profiles the overused left-handed specialist Scott Rice. "It's funny," Rice told Keh. "My arm feels awesome. But people keep coming up to me like: 'How's your arm? Are you OK?' And I'm like: 'Man, it feels good, but now I don't know. Is it supposed to be hurting?'"
• Fueled in part by Cesar Puello's 10th homer, Binghamton tried to rally from an eight-run deficit, but lost to Trenton, 10-6, Wednesday. Read the full minor league recap here.
• Puello faces a potential MLB suspension for his link to the South Florida clinic Biogensis, "Outside the Lines" has reported. Said Binghamton manager Pedro Lopez to the Press & Sun-Bulletin: "The funny thing about it is when everything happened in spring training, I found out a week later. When I got the message last night, I was naïve. I didn't know what they were talking about. I was lost. … I don't know much about it, only the stuff that I've read and that I've heard on TV. Basically, we have to wait and see what happens. Hopefully nothing happens to him. He's having a terrific year to this point."
• Collins does not expect Jeurys Familia to return this season. Familia was expected to undergo a cleanout of his right elbow Wednesday in New York.
• Jorge Castillo in the Star-Ledger and Mike Kerwick in the Record profile shortstop Omar Quintanilla.
• John Buck faces wearing down in the second half, notes Jared Diamond in the Journal. Only Yadier Molina has started a higher percentage of his team's games behind the plate.
• From the bloggers … Rising Apple believes it is time to promote lefty reliever Jack Leathersich from Double-A Binghamton. … Faith and Fear in Flushing chats with Howie Rose. … John Delcos at Mets Report believes the way to create room for Zack Wheeler is by trading Shaun Marcum.
BIRTHDAYS: Bud Harrelson is 69.
TWEET OF THE DAY:
Is the Harlem Shake about to break out? #thesquad #AAA twitter.com/Wheelerpro45/s…

— Zack wheeler (@Wheelerpro45) June 5, 2013
YOU'RE UP: Are you OK with the Mets' plan and showing patience?