WASHINGTON -- The New York Mets have selected California high school first baseman Dominic Smith with the 11th overall pick in the draft.
The 17-year-old Smith grew up in the same area of L.A. as Darryl Strawberry, whom Smith met today while attending the draft in Secaucus, N.J.
The Mets described Smith as a polished defensive first baseman with a lefty swing that reminds amateur scouting director Tommy Tanous of Rafael Palmeiro and Will Clark.
"That's a great compliment," Smith said. "Hopefully I can live up to it, or just live up to the best Dominic Smith I can be. And hopefully I can help the Mets win a World Series."
Smith said he admires the "beautiful left-handed swings" of Robinson Cano and Carlos Gonzalez.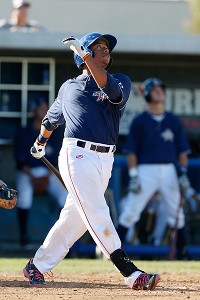 Larry Goren/Four Seam Images via AP Images
The Mets selected Dominic Smith with the 11th overall pick.
"We felt going back to last spring, into the summer, that this was one of the most advanced high school hitters that you'll find," Tanous said. "The fact that he bats left-handed is even nicer. You don't find a swing like this every year. We feel like we put a very offensive player and defensive player into the system. I've been scouting 18 years. I don't think I've seen a first baseman play as an amateur that plays this kind of defense. This a well-rounded player -- it's hit and power and it's a middle-of-the-order bat."
Paul DePodesta said Smith played right field in some showcase events, but the Mets intend to keep him at first base.
"There's no doubt in our my mind he could go out and play the outfield, but we think he's a special defender at first base," DePodesta said. "... It will always be an option if it needs to be at some point. But he has a chance to impact the game defensively at first base, and we think that's actually one of his pluses."
On Smith's swing, Tanous said: "It's a traditional swing as far as his hands work very well. This is as 'handsy' a hitter as you're going to find. He can get his hands to the ball and get inside the ball as well as anybody I've seen as an amateur. He can actually be caught out front of some balls, be out ahead of the ball, and still barrel the baseball. It's an extremely smooth swing. His legs stay under him. His head never moves. It's really, really a flawless bat path once he gets to the ball."
Writes ESPN's Keith Law on Smith:
Smith is one of the best pure hitters in the high school class, showing a smooth left-handed swing with power and a plus glove at first base. When he keeps his weight back, his swing is outstanding, with great balance through contact and good hip rotation to generate power from his legs. He has quick, strong wrists, with a projectable body that should lead to very hard contact when he fills out in three or four years.
He can drift forward at the plate too early, getting his weight out over his front side before he's started his hands, losing power and struggling to control the bat head behind him. His stride is long and early, which may be part of the reason for his trouble staying back but is an easy fix in pro ball.
Smith is an excellent defender at first with a 70 arm, hitting 92 off the mound the one time I saw him pitch, albeit with a rough delivery. He doesn't show a lot of energy on the field, which has positive aspects (he's a confident, relaxed hitter) and negative ones (some scouts have questioned the effort level, myself included), but there are no serious concerns about his makeup. In this draft, with so few potential impact bats, he's a clear top 20 talent.
The Mets have selected a high school player with their first-round pick each of the three years this front office has been in place.