NEW YORK -- Kirk Nieuwenhuis believes he has found his swing after struggling early in the season with the Mets. He opened the season 2-for-16 with eight strikeouts in the majors before being dispatched to Triple-A Las Vegas.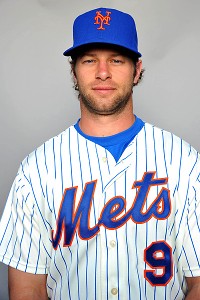 Steve Mitchell/USA TODAY Sports
Kirk Nieuwenhuis is returning to the Mets.
Nieuwenhuis credited 51s manager Wally Backman and hitting coach George Greer for assisting with the turnaround. Nieuwenhuis belted eight homers in his final 16 games with the 51s before getting word of his call-up Saturday.
He is due to rejoin the Mets today, displacing Rick Ankiel, who was designated for assignment.
"I think Wally and George have done a great job with helping me out, for sure," Nieuwenhuis told Russ Langer on Saturday's 51s pregame show. "I owe a lot to them. They straightened me out and helped me out a lot. I was kind of lost when I came down here, not having at-bats in spring training. I was kind of in a funk, and they really helped me out. They really put a lot of effort into it."
Nieuwenhuis had missed nearly three full weeks of Grapefruit League games with a bone bruise in his left knee, which he suffered sliding into second in a spring-training game.
Asked if the changes made in Triple-A were mechanical or mental, Nieuwenhuis added: "A little bit of both. I think there were definitely mechanical things that I thought was an issue. And then I just think hunting fastballs is the biggest thing that me and Wally talked about."
The Mets want Nieuwenhuis to make more contact, which means a better two-strike approach.
As for his recent power surge, which gave him 10 homers in 142 Triple-A at-bats this season, Nieuwenhuis said: "It's fun to be able to do stuff like that and contribute to a win, for sure."